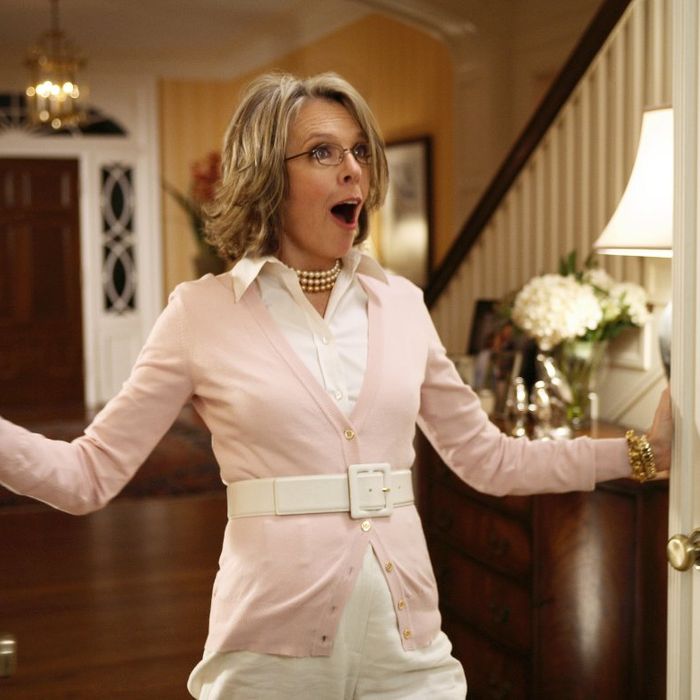 Of all the imagined lives of all the people, wouldn't you most want to live the life of a Diane Keaton? Well, you have a bright window of an opportunity. Diane Keaton is selling stuff on One King's Lane — along with her sister Dorrie Hall, who runs an antique store in Pasadena.
Just imagine yourself — leaning against a comfortably itchy throw blanket, drinking tea from an orange Catalina tea pot ($419). Ooh, over $400 for a tea pot? Yes, that's the price. Get ready to pool all of everyone's money so that the life of Diane Keaton can be properly emulated. There are 260 items for sale and we will take them all.
First, you must know Keaton has a thing for sombreros as a decorative motif: On photo books ($45), baby blankets ($59), a single-purpose kitchen implement ($35), lampshades ($275).
While nothing in this sale is surprising at all, everything is a treat. Like funny doorstops! Oh, Keaton loves a good doorstop ($139). Also many a Navajo silver and turquoise jewelry item; also whimsical outdoors decoration, like skunk lawn ornaments ($119) or a cement garden lamb ($369). There are pots and earthenware of all sorts: like a certainly-used terra-cotta hanging pot ($59) or elongated jars ($4,199), or a Pacific Pottery Dog Bowl ($99). Your walls will never not remind you of Diane Keaton if you select an early Malibu Mayan Tile ($1,299) or a John Heller WPA Mural from 1935 ($53,899).
The only, mildly unbelievable item is silver turquoise cuff links ($157 for the pair): Because while silver turquoise cuff links seems like the accessory-embodiment of a Diane Keaton, don't you think that one of the pair would have been lost on an impromptu picnic? Probably so.