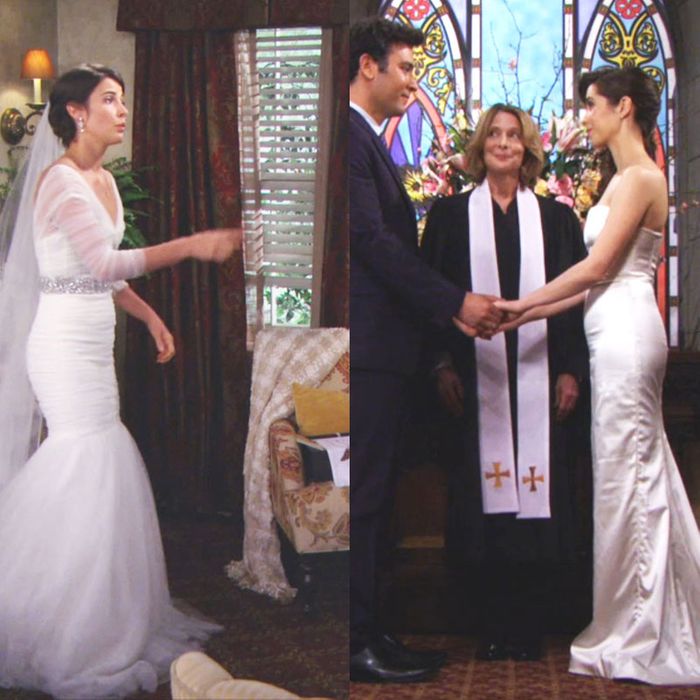 As soon as I saw the doe-eyed mother played by Cristin Milioti walk into MacLaren's Pub in her wedding dress, I knew this ending was going to blow hard. Milioti, who's beautiful, was for some reason clad in ill-fitting, high-shine poly-satin (?!): It practically sounded a death knell in my head.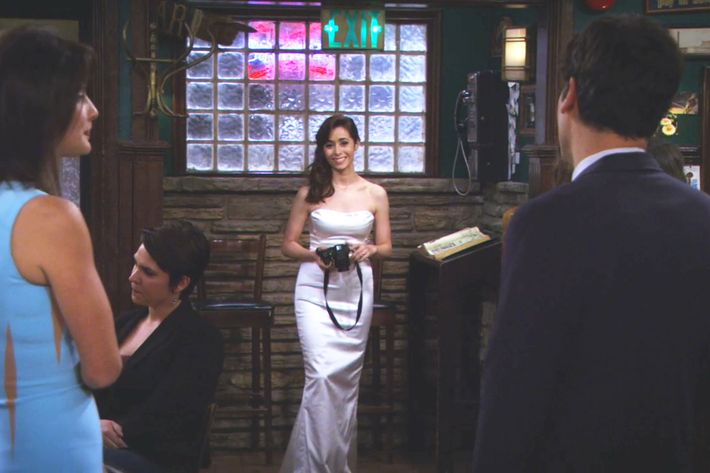 It looked like a bad costume rental; probably handmade, based on the side view. The glare of studio lights on the fabric seemed to expose the glitches of an amateur sewing job. It appeared to slightly shirr along the seam. "Is that a huge snag in her dress?" I wondered. No, the freeze-frame revealed: It was just an unfortunate seam job joining the bias train. It didn't fit her body as well as the silhouette could have. And lo and behold, the hem: The dress wasn't even properly hemmed.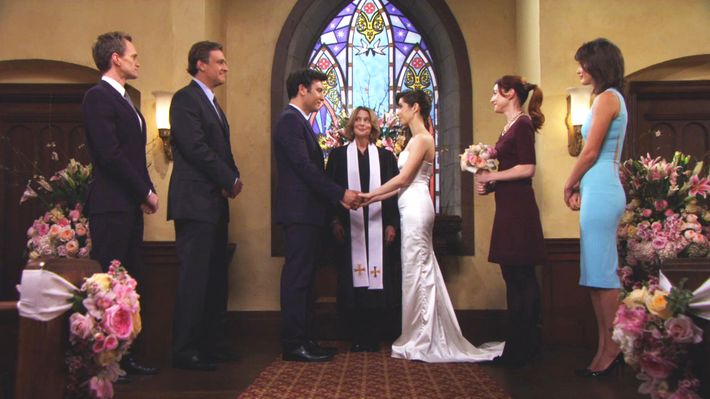 We receive our last image of the two clasping hands and exchanging vows — and she appears to be wearing slight platforms in order to mitigate her too-long dress, which should be just grazing the ground at her toes. This is the title character of a beloved nine-seasons-long show!
While some fans are complaining about the way the episode resolved the show's arc (Really? That was the culmination of all that brilliant repartee and narrative curve-balling?), I am taking arms against the show's stylist and art director for such a gross oversight. While the plot line called for a last-minute wedding dress, couldn't the costume department have afforded a different dress or, at the very least, a tailor? If only to stay on par with that other leading lady's Monique Lhuillier gown.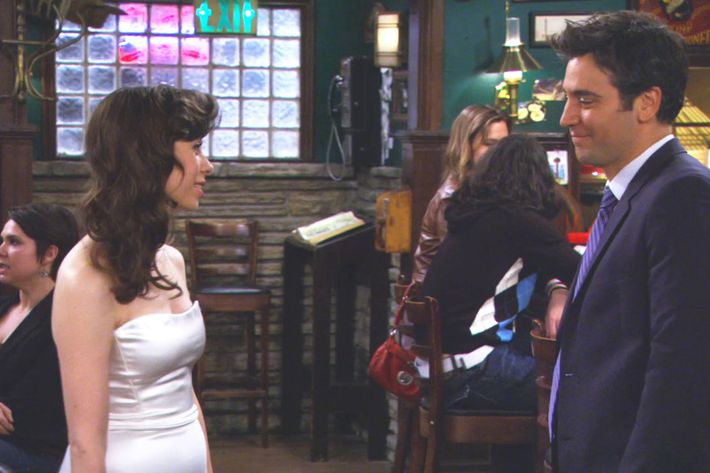 E!, who approved of the dress, spoke with the show's stylist, Reiko Kurumada:
While I appreciate the intended simplicity, the rest of Kurumada's comments give me pause:
I couldn't disagree more. The lack of attention to the dress suggests a lack of attention to Mrs. Mosby herself. It's almost as if "Well, she's going to die anyway …" was the reigning logic behind the dress choice.
Mrs. Mosby deserved to wear something befitting of both her body and the mythology built up by the hapless Ted Mosby. And we, like Ted, had waited in suspense for the universe to perform its grand reveal. The very least this woman deserved was something equal to that.
I don't mean something fussy. But at least let me bury the memory of her in a funeral bier of real, ivory satin. Natural fibers, please.