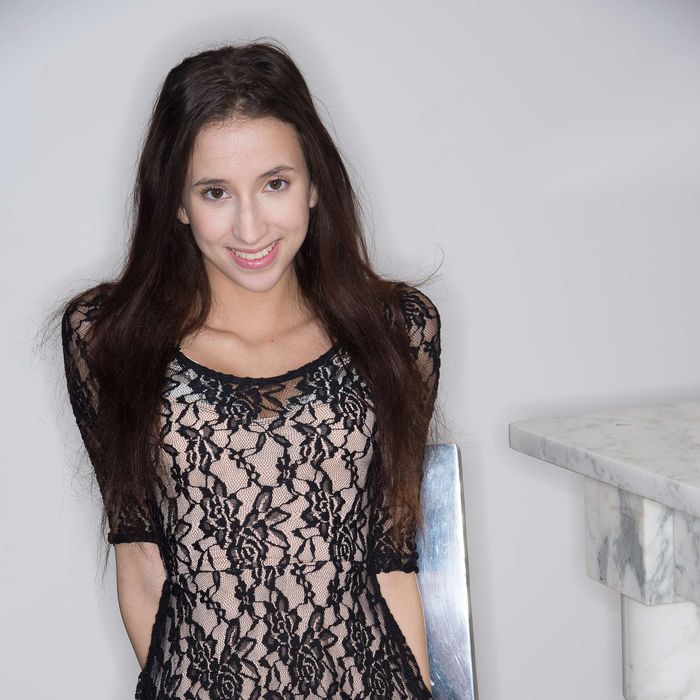 Photo: Dave Kotinsky/Getty Images
Since rising to prominence earlier this year, Miriam Weeks (a.k.a. Belle Knox, a.k.a. the Duke Porn Star) has done an impressive job claiming her right to be both a college feminist and a porn star. But even with her formidable self-possession, that's no easy job, as this week's Rolling Stone profile makes clear.
The piece finds the now-known porn star and college freshman fully settling into her gig as Belle Knox, which includes "wearily" shopping for cheap panties to sell for $50 per pair at an Atlantic City convention called Exxxotica — there are pitfalls to every job, guys — an internship at Pornhub, a sex-toy line based off of her genitals, and a new gig hosting TV show The Sex Factor. And it discusses what it's like, day to day, to go back and forth between being Miriam (a college student who "sleeps a lot, loves her family, loves her friends" and "wants to get married, have kids, work as a lawyer for women's rights") and being Belle Knox, full-fledged porn star. For starters, she's lost ability to go to her favorite bar, Shooters, and hardly has a relationship with her parents. And, despite an initial fantasy of how "hot" her first shoot would be, this is her account of the experience:
"They try to figure out what makes you tick and fuck with you. I remember getting naked, and the guy said, 'You have cuts on your legs. You're a cutter.' He could tell I had written the word 'fat' in my thigh, so he started calling me fat." Once they called "action," she was pushed to the ground and slapped. "And I said, 'Stop, stop, stop. No, no.' And then they stopped, and they were like, 'We have to keep going.'

"And I was like, 'Just please don't hit me so hard.' But it went on like that, me getting hit, pushed, spit on. I was being told I was fat, that I was a terrible feminist, was going to fail all my classes, was going to fail all my classes, was stupid, dumb, a slut. But I got through it. You know how you kind of zone out sometimes? I just disassociated."
Yikes. Weeks decided to stick with the porn for paycheck, though, and wisely joined an agency that helps protect her professionally. She's now well on her way to becoming the next Sasha Grey — and paying off that Duke tuition.