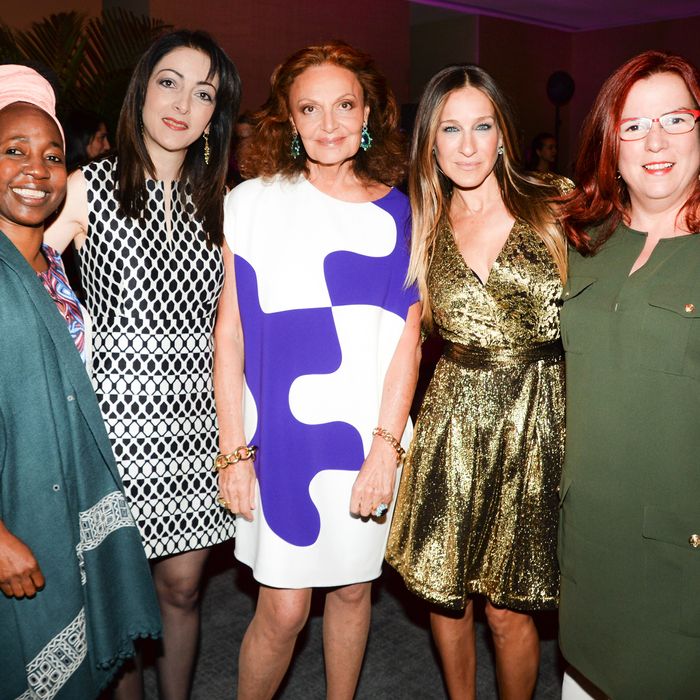 Photo: Joe Schildhorn /BFAnyc.com
On Friday, Diane von Furstenberg and Tina Brown hosted the 5th annual DVF Awards at the U.N. — a celebration of the achievements and service of women around the world. Each year, the Diller–von Furstenberg Foundation gives two awards to women working within the Vital Voices network — an international NGO dedicated to identifying, training, and empowering female leaders and entrepreneurs across the globe.
This year's honorees included Israeli community organizer Liron Peleg-Hadomi and Arab educator Noha Khatieb, who accepted a joint award for their work organizing monthly coexistence meetings between Israeli and Palestinian women, and Kah Walla, an entrepreneur and political leader in Cameroon who ran for president in 2011 and plans to run again in the next election.
"My mother was a women's activist, so I learned very early that it was important to see women's rights as fundamental rights in the society, and to fight for women's rights," Walla told the Cut before the ceremony. Among the women who have inspired her, she counts Wangari Maathai, Alice Walker, Toni Morrison, and Queen Nzinga of Angola. "She was a woman who led the nation of Angola in the 1500s," Walla explained. "I was amazed to discover there were women leaders at that time. And it really sort of made me realize that women in Africa have been leading for a long, long time."
When asked which women have inspired them, Peleg-Hadomi and Khatieb didn't hesitate: Inez McCormack, a Northern Irish trade-union activist and fellow Vital Voices member who passed away last year. "In the past few years, she's been our spiritual leader," said Khatieb.