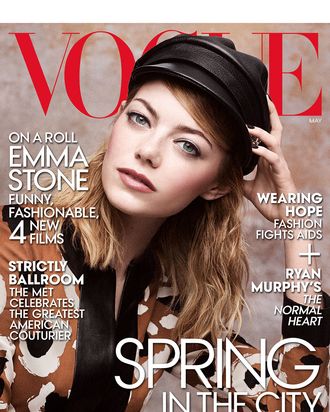 Emma Stone is on the cover of Vogue this month, and her brief respite from the rollicking Emma Stone International Spice Girls Press Tour 2014 takes her to a super-fun store for kids and kids at heart: Build a Bear. In a mall, for goodness sake, notes Vogue.
And so this is the story of "one of the most successful young actresses in Hollywood on the second floor of the Westside Pavilion in Rancho Park." There, Stone stuffs a plush ursine into tiny stitched "skinny jeans." She also says things like "exhi-bear-tionism" and "bear-ing all" and "this is bear-nanas." Oof.
To be fair: Apparently, Stone had wanted to go to the Griffith Observatory for the interactive portion of the Vogue interview, but the writer feared it would not be true to her "devilish and unpredictable" personality. It must be rough to be called upon for on-demand unpredictable devilishness.