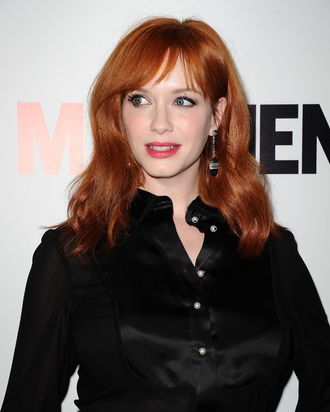 Photo: Jason LaVeris/FilmMagic
Christina Hendicks, in an interview with Health Magazine, talks about how getting a puppy with her husband misled everyone to believe that a kid was imminent:
We got a puppy, and that's my idea of starting a family. People say, "Oh, that's practice for parenting," but if it's practice for anything it's to be a mom to another puppy. We've decided that we are not really interested in having children.
A puppy is not a prelude to a baby — a puppy is a prelude to a dog. But, Hendricks continues, you know people and their follow-up questions.
It seems like it's expected that you'd want to have kids. It's just very normal for people to say, "Well, when you guys have kids …" And then when I say, "Actually I don't think we're going to do that," people will say, "Oh, you say that now …" It doesn't bother me, though. And, you know, there's a small chance I could change my mind.
For now, puppies on puppies on puppies on puppies.