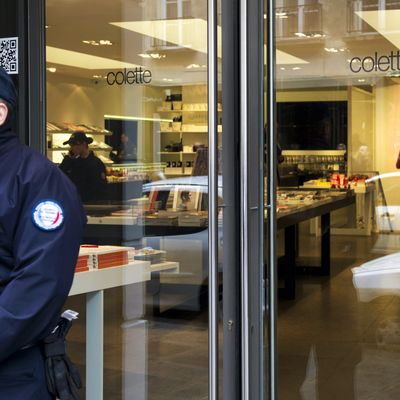 Photo: ALAIN JOCARD/AFP/Getty Images
Paris's Place Vendôme might be one of the most luxurious shopping districts in the world. It's home to the Hotel Ritz and studded with high-end boutiques: Chanel, Dior, Cartier. It has also been the site of three armed robberies in the past three weeks.
Most recently, the smash-and-grab thieves targeted Colette, the boutique that caters to the deep-pocketed hipster set with an expensive "water bar" and €985 clocks. The burglars made off with €600,000 worth of watches. Sounding vaguely self-promotional, owner Colette Roussaux told the New York Times, "They came for the opportunity and the beautiful watches here. And we don't sell Swatches."
What's perhaps more surprising than the crime spree in a typically calm area is the way the French public has reacted. The crime has already been mocked on a TV show called Le Petit Journal, with a skit about the burglars deciding which designer gloves to wear. Enterprising students made T-shirts that read "I Robbed Colette." Why all the jeering? Perhaps it's because, in a country with 25.4 percent youth unemployment (by contrast, the United States' is 14.4 percent) and overall economic woes (freshly appointed Prime Minister Manuel Valls is tasked with cutting public spending), the average Joe, or Jean, doesn't have a lot of patience for the one percent. If anything, they might be on the side of the thieves.
Those "I Robbed Colette" tees? They sold 1,000 of them in two days at €25 a pop — about $34. At Colette, that will buy you, no joke, two stickers.