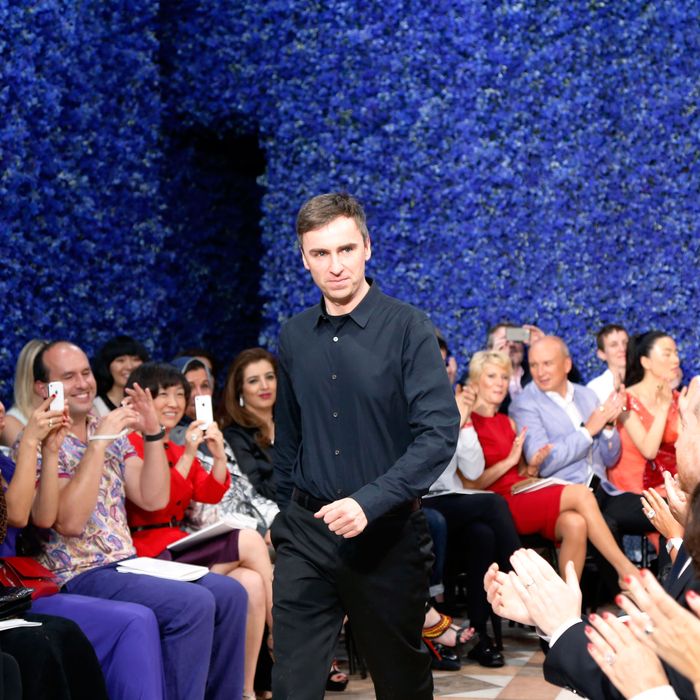 Photo: FRANCOIS GUILLOT/AFP/Getty Images
"We can't say no to clients."
"Well, you also can't say no to me."
These are the kinds of tense conversations that are common enough in any office, but you rarely hear them in any film or TV representation of fashion people. Too often, the glitzier elements — flashbulb-soaked front rows, red carpets, celebrities "just dropping by" the atelier for an air kiss and a suspiciously pre-customized gown — crowd out the nitty-gritty of actually designing a collection. Because who wants to see the nitty-gritty?
Well, as it turns out, it can be pretty fascinating. Frédéric Tcheng's film, Dior and I, which is opening this year's Tribeca Film Festival on April 17, offers unprecedented access into the LVMH-owned house's inner workings. While quiet and moderately paced, the 89-minute documentary has a race-to-the-finish aspect underlying it. Designer Raf Simons, newly hired and having never designed a couture collection, is given a mandate: You have eight weeks to concoct something that will please house loyalists and clients, while at the same time being utterly different and groundbreaking. Oh, and your predecessor, John Galliano, was ousted in one of the messiest fashion scandals of all time. No pressure. (The one jarring element of the film, the ghostly voice of M. Dior as portrayed by poet Omar Berrada, is meant to indicate this already-too-evident stress.)
The other source of tension: Simons — who comes across as a calm, rational sort, with an occasional flare of temper — is an innovator, not a disciple of New Look nostalgia. "The past is not romantic to me," he says at one point. "The future is romantic to me." Thus we see members of his team spray-painting a Bar jacket and papering mood boards with contemporary art references. Simons also wants to do certain things that turn out to be just short of impossible, like using a technique called imprimé chaîne to re-create Sterling Ruby's prints on fabric — at one point, someone says that only four engravers in France know how to do it, and they're all busy). He also demands a Jeff Koons puppy–inspired floral set. (These end up requiring a staff of 50 people and 1 million fresh flowers. We hear only that the process was very expensive, but Dior CEO Sidney Toledano seems perturbed.)
The film will probably draw comparisons to Valentino: The Last Emperor, which Tcheng also worked on, but it's more reminiscent of The September Issue, which earned plaudits for accurately depicting what it's like to work at a magazine. (Yes, people really do stand and fuss around light boxes for hours. It's hell on the knees.) We see Simons popping Champagne with his team, bickering with his recalcitrant petits mains, covering his eyes while watching a show rehearsal, high-fiving a member of his staff. He even calls one oversize coat "Romeo Gigli on acid" — he's surprisingly quippy.
When show day finally comes, Simons does channel his inner prima donna. He has some strange fear of walking down the entire runway to take his bow. He will "faint" if he must complete the entire catwalk circuit, which he likens to "a walk in the desert." Even though he almost comes out too early, with six models still to go, Simons eventually makes his bow. The rest of the footage is familiar: house faces Jennifer Lawrence and Marion Cotillard embrace him, fellow designers kiss the ring, Mom and Dad deliver hugs. But it's hard to imagine that any of these people can comprehend the work that went into everything they saw. Luckily, now we know.