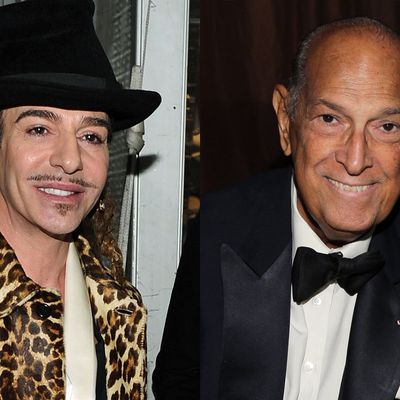 After the designer's dismissal from Dior, the first step toward rebuilding his public life was a stint at Oscar de la Renta's atelier, where he began last year by working in a "residency" capacity. The fall 2013 collection he worked on garnered praise from critics, with our own Robin Givhan calling his first effort "an irresistible fantasy." There was talk Galliano could be brought on in a more permanent role.
But now, hopes for that outcome seem dashed. A source tells the New York Post: "It is categorically not happening." Apparently, the disagreements centered around money. "The team at Oscar were not willing to put up the money to pay for the design team John needed, such as the cutters and other specialist support staff for his atelier." The source claimed that Galliano and de la Renta's friendship has not been affected; Galliano is focusing on mentoring Central Saint Martins students in London.
Per the story, the company is still in search of a new creative director. We certainly have a few of our own picks in mind.