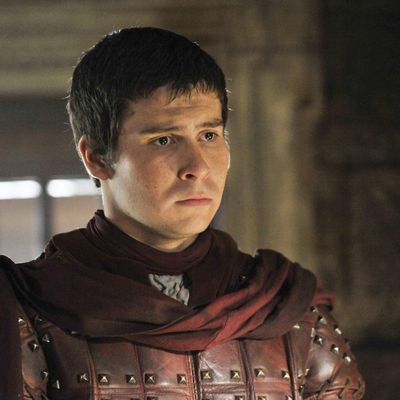 What could serve as a palate cleanser after twisted, non-consensual twin sex? How about taking a moment to appreciate the bond between Tyrion and his squire, Podrick Payne? They're a reminder that, at the very least, friendship, loyalty, and hard cheese exist somewhere in King's Landing. On the heels of Joffrey's murder, Tyrion is quickly finding he has no allies (his father and sister are having him tried for murder) — except for dear Podrick, his highly competent, highly devoted squire.
Who They Are: Tyrion Lannister appreciates whores, booze, and biting wit; he's a one of the noblest men in Westeros but still an outsider to his own family. Podrick Payne is his shy, sweet servant.

Why They Rule: In season three, Podrick saved Tyrion's life on the battlefield, and Tyrion returned the favor by treating Podrick to three of the most talented prostitutes of King's Landing. We then learned that Podrick had abilities even more impressive than loyal service and knowledge of sigils. In the seemingly unassuming Podrick, Tyrion found a true ally (who happens to be a lion on the battlefield and the bedroom — just ask those prostitutes); in Tyrion, Podrick found a teacher, a friend, and a supplier of hot ladies. Last night, Podrick was Tyrion's sole prison visitor. He came bearing duck sausage, cheese, and seriously bleak news. The lesson here is simple: A real, enduring  friend is one who'll help you smuggle sausage, one way or another.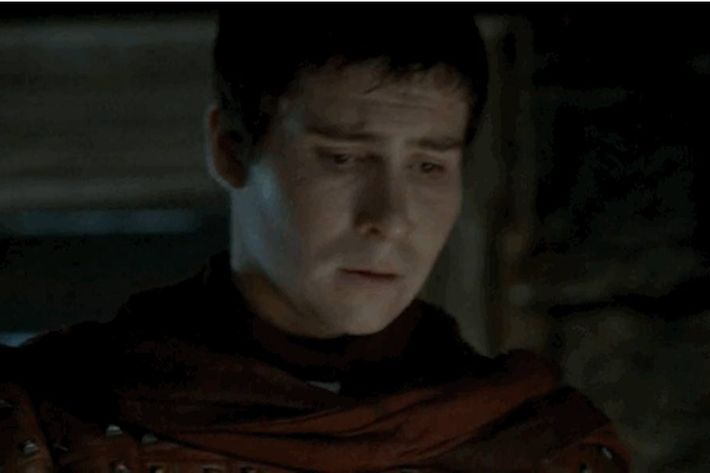 Best Couple Moment: Tyrion knows he's in real danger; Podrick knows he will either have to betray Tyrion, flee, or be killed. They've come to the end of the road, and Tyrion refuses to let faithful Pod die on his behalf. As farewell, the two exchange a tearful, emotionally loaded look. I may have cried excessively.