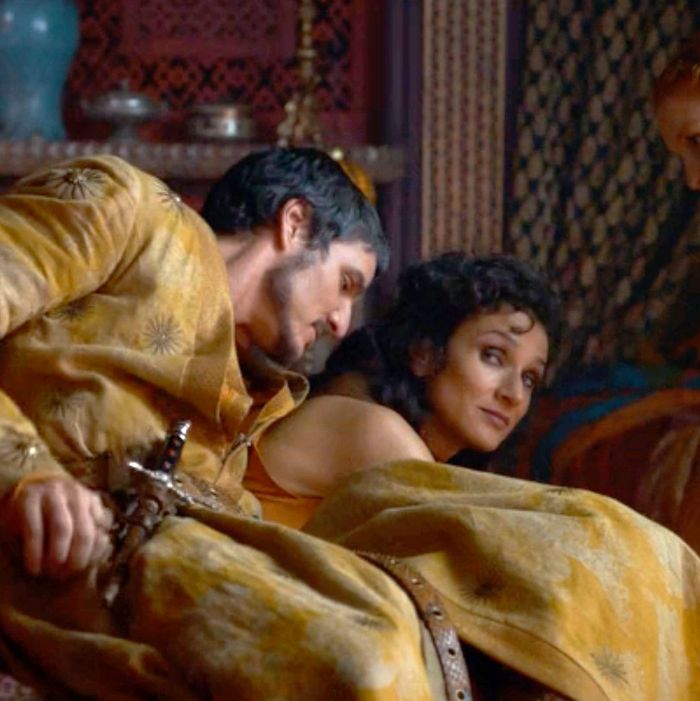 Game of Thrones returned last night, giving our Sunday nights purpose once more. The first episode shows us where things stand with some noteworthy pairs: Joffrey and Margaery (still getting hitched); Jon Snow and Ygritte (hell hath no fury). Tyrion turns down Shae, Cersei turns down brother Jaime (no complaints there) — but, fortunately, we were introduced to some sexy new Dornish friends, Oberyn Martell and Ellaria Sand. These two, who have traveled to King's Landing on the occasion of Joffrey's nuptials, have a love so hot, so enormous, it can contain multitudes of people and sexual proclivities. For that, the Cut's very first Game of Thrones Couple of the Week award goes to Oberyn "Red Viper" Martell and Ellaria "Don't Call Me a Lady" Sand.
Who they are: Oberyn and Ellaria are wedding guests in from Dorne. Oberyn's sister was brutally raped and killed in Westeros, so it seems likely he's not just planning to enjoy a slice of lemon cake and dance the Westeros equivalent of "Electric Slide." Ellaria is his lover.
Why they rule: Oberyn and Ellaria are both openly bisexual — not something we've seen so far in Westeros, but perhaps Dorne is more progressive. Also, their interests include getting it on and generally being the life of the party. These two may swing all ways possible, but be it sex with other people, stabbing other people, lively banter with other people — literally nothing is going to get in the way of their love/passionate lovemaking.
Best Moments: "Timid bores me." — Ellaria
Q: "Which way do you like it?"
A: [Grabs bedmate's genitals.] "My way." — Oberyn.