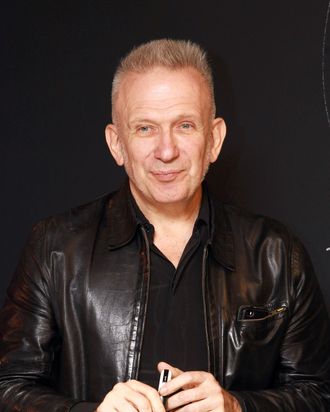 Photo: Fred Duval/FilmMagic
In an interview with French Radio London — which French speakers can listen to here — Jean Paul Gaultier discusses his blockbuster exhibit, "From the Sidewalk to the Catwalk," which recently opened in London after touring for three years. "Every time it goes to a different city, this exhibit changes," he said. "To simply exhibit the first, second, and third collection with the corresponding elements wouldn't be very interesting," Gaultier explained. "With this exhibit, I was able to go further and do something that was a new adventure — like one super-collection with the best elements — and not show them in a chronological way, but instead by theme." (E.g., sailor stripes and tattoos.) For this London exhibit at the Barbican Centre, he expanded the section on his muses, which include Beth Ditto and Dita Von Teese.
While we already know that Gaultier made a cone bra for his teddy bear, apparently the obsession went further than that: "I wanted a doll, but when I was a boy that wasn't really done," he said. "The teddy bear, I transformed. I put conical papier mâché breasts on it. And then I made this teddy bear live through everything that was going on at the time. When King Baudouin of Belgium married [Queen] Fabiola [in 1960], I dressed it in a bridal gown like Fabiola's," which he sewed himself, naturally. He even re-enacted the first heart transplant, done by Dr. Christiaan Barnard in 1967, on the bear. "I operated, but I couldn't go near the breasts because of the conical breasts, so I went in at the intestines."
Gaultier also chatted about the appealingly flawed muses he's been drawn to over the years. "For me, there is no such thing as 'the perfect woman,'" he said. "What certain people call imperfection is exactly what I find charming and interesting. I would say there are no perfect women. That's not at all my area of interest. People with an unusual-looking nose, interesting hair, or a little bit of disharmony — that's what is interesting and beautiful. I try to see beauty in places where other people aren't in the habit of looking. The important thing is to know how to open your eyes."
When culture editor-in-chief Maïa Morgensztern asked him what his dream is, the designer quipped, "Retirement," then explained: "I'd like to diminish the number of collections I do, because with pre-collections I do 12 a year." He's also interested in "collaborating again with film, theater, musical projects, things like that." Please let this mean he will once again be dressing the contestants in the Eurovision Song Contest.
Note: The quotes in this interview have been translated from the original French.