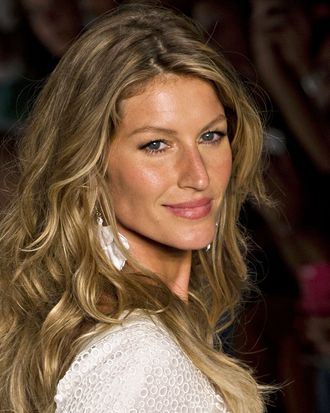 Photo: NELSON ALMEIDA/AFP/Getty Images
Even perfect human specimens can't escape death and taxes. After being named the world's highest-paid supermodel several years running, it sounds like Gisele Bündchen has fallen prey to the latter. She told Brazilian magazine MdeMulher that, after appearing on Forbes' "World's Highest-Paid Models" list for seven years running, she was targeted by the IRS.
"It's sad, because the people who write these things don't have my bank account details," she told the magazine. (Please feel free to share them with us, though, Gisele. We're also going to need your PIN.)
"I do ok, I earn plenty, but not as much as they say. I've already been audited by the IRS because of this list and truthfully, whether I'm on this list or not, it doesn't interest me," she added. "I've got the same interests, the same day-to-day life, as any woman. I want to raise my children well, be a good wife, and work. This is what I value: are my children educated, is my husband happy, are people feeling positive energy from me? There should be a magazine to quantify knowledge, understanding and love for people: that is power." This message of positivity brought to you by a woman who lives in a $20 million castle, complete with a moat.