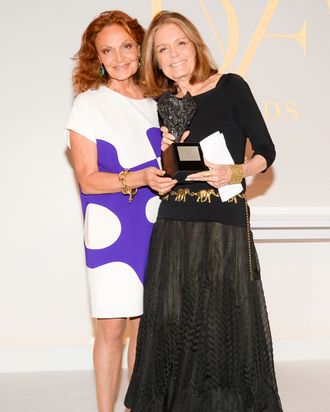 Photo: Joe Schildhorn /BFAnyc.com/BFA NYC
"Why does everyone love Diane as much as they do? I think it's because, male or female, we all just want to be her," Tina Brown said when she introduced Diane von Furstenberg during last night's DVF Awards at the United Nations. "She has everything, all wrapped up in this fantastic, slinky package."
This year marked the 5th annual DVF Awards, which, along with the Women in the World Summit, were the collective brainchild of Brown and von Furstenberg in 2010. Since that time, the Diller–von Furstenberg Family Foundation has recognized 25 women around the world for their work to better the lives of others — including Gloria Steinem, who was honored with the lifetime achievement award last night.
The event, hosted at the U.N. headquarters (decorated with purple lights and palm trees for the occasion), was a spirited affair — a roomful of women in wrap dresses singing in a call-and-repeat fashion with Estelle, and speculating about babies who had been conceived in the iconic, 40-year-old jersey garment.
"I have to admit that I was wearing a wrap dress when I seduced my husband, and that dress — with no zippers and no buttons — did come in very handy that night at the Regency Hotel," revealed Brown, to wild applause. "Apparently Anne Hathaway's mother told DVF recently that she seduced Anne's father in a wrap dress," Brown continued. "It's possible, even, that Anne Hathaway was conceived in that wrap dress."
Over the course of the night, various women took the stage, including Sarah Jessica Parker, who took out her reading glasses to introduce Israeli community organizer Liron Peleg-Hadomi and Arab educator Noha Khatieb, both of Vital Voices, who accepted a joint award for their work organizing monthly meetings between Israeli and Palestinian women. Other honorees included Kah Walla, a political leader in Cameroon who ran for president in 2011 and plans to run again in the next election; Veronika Scott, founder of The Empowerment Plan, which provides homeless women with shelter and employs to produce coats for those living on the streets; and Alicia Keys, recognized for her work with the Keep a Child Alive foundation for children and families affected by HIV.
Last to take the stage was Gloria Steinem, who celebrated her 80th birthday last month. "I'm discovering with age that people normally assume you're living in the past, and not in the future," she reflected. "The word still has entered my life. People say to me, 'You're still traveling. You're still wearing blue jeans,'" she said, laughing. "And even worse in a way, they say, 'Oh, you've sacrificed so much, now's the time to do something for yourself.' I mean, please — that is so wrong. I don't think I've sacrificed one fucking thing," said Steinem, to resounding applause.
"I actually didn't write that word down," she chuckled. "But what can you do? I feel joyous and lucky to do and to continue doing the work I love with people I love and trust, and learning something new every day, excited about possibilities, mad as hell at realities, as a part of something that truly matters," she concluded, thanking the Diller–von Furstenberg family for having faith in the future. Steinem will donate the $50,000 award to Equality Now — a women's rights legal group of which she's a global board member — and its project, Donor Direct Action.