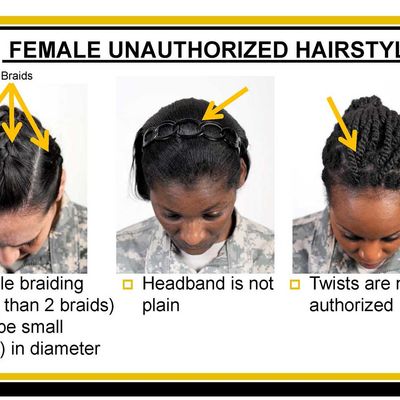 Photo: Courtesy U.S. Army
Yesterday's Pentagon briefing revealed that Defense Secretary Chuck Hagel has ordered a militarywide review of hair rules and regulations. Army hair policies, which had banned all dreadlocks, twists, and cornrows of a certain size, were accused of being racially biased toward African-American females, particularly those with natural hair. The decision to review follows national media attention, a White House petition with over 6,000 signatures, and a complaint lodged by the Congressional Black Caucus. Although previous ire was focused on army hair policies, the New York Times reports that Hagel has requested a review for all military services, including the Army, Air Force, Navy, and Marines. The Washington Post's official transcript of the Pentagon briefing has details about the three-month review, which will include a revision of "any offensive language."
Within the next 30 days, each service will review the definitions of authorized and prohibited hairstyles contained in each of their respective policies and revise any offensive language.

Number two, during the next three months, each service will review their hairstyle policies as they pertain to African American women to ensure standards are fair and respectful of our diverse force while also meeting our military services' requirements.

And he said after he gets — after he gets these reviews, after a thorough review of the service recommendations, he will make whatever appropriate adjustments to [Department of Defense] DOD policies are necessary.