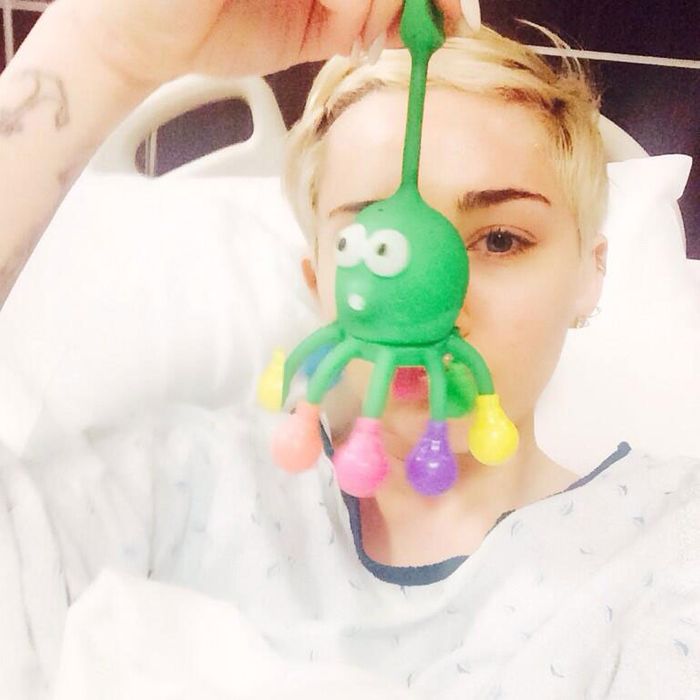 Photo: MileyCyrus/Twitter.com
A couple days ago, Miley Cyrus reported that a nasty sinus infection had developed into a severe allergic reaction to some antibiotics. It sounds rough. According to her team's official statement, doctors believe she could be in the hospital and off the Bangerz tour for three weeks.
But, as ever, Miley has responded with a spunky attitude, selfies, and many an emoji.
She is, in a word — in her own word — "mizzzzzeraaabbblleeee."  She's crying a lot. She also doesn't like the entertainment options.
She is trying to deal, though. She's listening to the Flaming Lips. She's playing with a toy sea creature. She Face-Timed with her dog.  And in response to rumors, Cyrus is standing up for herself with clear instructions: "shut the fuck up & let me heal." (Can we pause and admire that euphonious transition from gruff obscenity into wholesomeness?) And MTV made her a get-well commercial with a joke about sticking out your tongue for the doctor.
As of her last update, she is "sick of waking up to needles" but still "#goingthruit." The emoji of the cat crying is her image of choice.