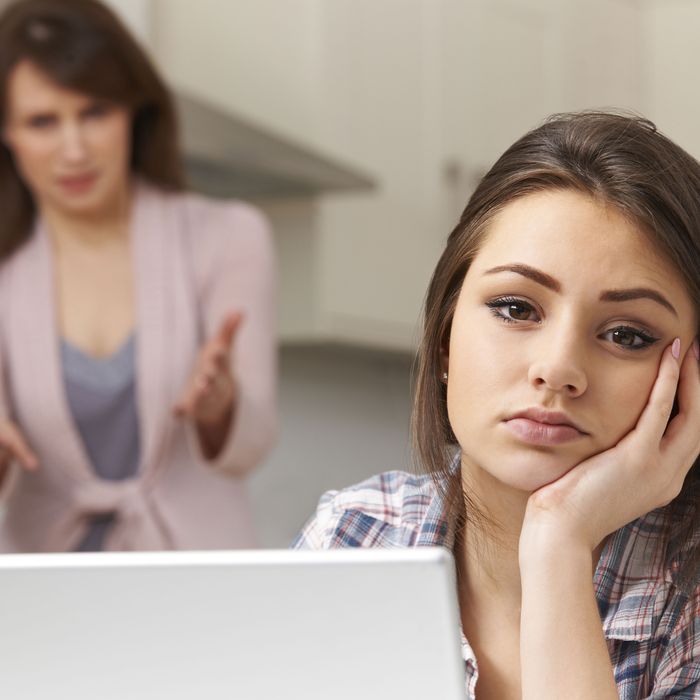 Photo: MachineHeadz/Getty Images
Yesterday, Lisa Damour wrote a post for the Times' Motherlode blog offering advice on "How to Talk to Your Teenager About Pornography." For example: The conversation "probably best happens in the car, where nobody has to make eye contact."
Below, the Cut staff discusses.
Molly Fischer, associate editor: First off, this article is working from a pretty definite assumption that porn is bad.
Stella Bugbee, editorial director: And shameful.
Kat Stoeffel, writer: "Degradation," "exploitative."
Maggie Lange, writer: It is a "shadowy and loveless corner of the vast landscape of human sexuality."
Molly: "More intense, explicit, violent, or downright strange than anything you're probably imagining."
Stella: "When you watch pornography, you are participating in exploitation. We don't do that in our family." Can anybody really say that?
Kat: I'm guessing your family does exploit someone. Maybe some factory workers in Bangladesh.
Molly: "We only do that under certain circumstances in our family."
Kat: What's weird is that the word entertainment is never used: If you call porn entertainment, you can make all these useful analogies. I plan on telling my kids it's like professional wrestling, for example — if that still exists when I have kids.
Molly: Also regarding "entertainment," something Damour does not seem to acknowledge at all in this article is why anyone would ever watch porn, ever. It just seems like this inhuman shadowy menace.
Allison Davis, writer: She makes the desire to watch seem like some uncontrollable urge: "Our bodies can be aroused by things our minds don't find appealing."
Kat: Oh, I actually really liked that advice.
Stella: I liked that advice, too, because it was the one part that sort of felt like a real conversation about sexuality and how confusing it can be.
Kat: And it, like, tells people to be critical consumers instead of watching it as gospel. Sex gospel.
Stella: I feel like the real problem is that we don't have nearly real enough conversations with our kids about sex. Part of the refuge of porn is that we don't have places in our lives where we can talk openly with people we trust as teens.
Molly: What kinds of conversations are you planning with your kids?
Stella: Well, I had VERY open parents, so I am prepared for that. There was nothing I couldn't ask my parents — but porn is hard, I admit it. A radical approach would be to watch some together.
Molly: RADICAL.
Kat: Oof.
Stella: Well … I dunno. Let's imagine a world in which sex is not shameful.
Kat: I don't know. The best part of being a teen and dating and having sex is that you're doing this thing WITHOUT your parents. I wish there were more openness among teens! You can't actually talk about sex without getting gossiped about or slut-shamed. Maybe Rookie will fix everything.
Stella: I feel like parents should say, "I know you're going to see porn. Some of it is fun; some of it is fucked up. It can be hard to tell the difference sometimes."
Kat: "IRL, ask first." Also, "This is fake. These people are paid to do it for your entertainment." And:  "In real life, sex is about relationships, so you can't just share their photos. It's private, etc." Separating women you know from media imagery of women is important when kids can make images of themselves on their phones.
Stella: Porn and sexuality seem to be inextricable these days.
Maggie: But, like, if porn isn't part of your life and an adult makes it half of their conversation with you about sex, it would seem like it maybe should be part of your life.
Molly: I think it's on the adult to frame it better than that. Maybe by acknowledging that porn seems to loom larger than it should, given the relationship between porn sex and IRL sex? I almost wonder if downplaying the importance of porn — rather than making it a big bad thing — is a good way to go, kind of in the spirit of Kat's wrestling analogy.
Emily Shornick, photo editor: I find it hard to believe there is a teenager for whom porn isn't a part of their life. I think it should be addressed the same way alcohol is addressed: It's something intended for an older audience that must be treated with caution.
Molly: Okay, so, was there anything that people found useful in the Times piece?
Kat: The thing about "what turns on your body might disturb you mentally," or whatever. I want that on a T-shirt.