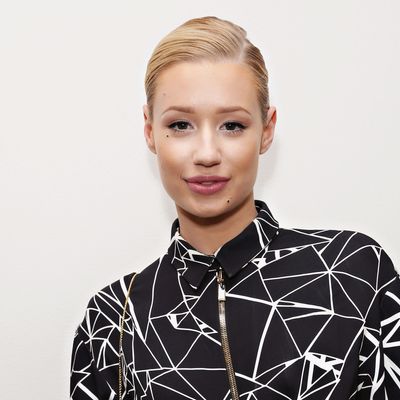 Photo: Cindy Ord/Getty Images
According to the most-recent single from her just-released album, The New Classic, the definition of fancy involves swinging from chandeliers and getting drunk off hotel minibars. But rapper Iggy Azalea — who doesn't drink at all, from uneconomical minibars or otherwise — has her own definition of fancy. It includes first dates at Target (and second dates playing games on the boardwalk), throwback sports jerseys during the day, and Lanvin on the red carpet. "I think fancy is cheeky and fun, but still having a degree of class," she says. "It's classy and sassy together, but fancy."
The rapper and red-carpet staple, whose celebratory summer album comes out today, spoke to the Cut about her female rap icons, how she loves to be "tongue in cheek, but still feel chic," and how to look really good in short-shorts.
The New Classic comes out today — but is already an album-of-the-summer contender. What should I be doing while I listen to it?
I'm from the smallest, tiniest dot on the map, a country town, so when I think about who is buying my album, I want that girl like me to buy my album, but I want the New York City girl to buy it, too. I kind of want everyone to love it. I think it's celebratory, I guess, is the main theme. If I could do anything, I'd love to get a big boat and have a barbecue on the boat and ride Jet Skis and have one of those water trampolines that you jump up onto and do belly flops and stuff. That would be my ultimate summer day. I think I am going to make it happen for my birthday in June.
Why did you go with a Clueless remake for your "Fancy" video? 
I absolutely love Clueless. I've always wanted to have any — any — excuse to remake it. The song had kind of a West Coast beat, and to me Clueless is about Valley girls –that stereotypical L.A. Valley girl. I think Cher is kind of the perfect, ultimate character of what people think an L.A. girl is. In most rap videos you'd see cars or bottles in the club, and I wanted to do something totally unexpected, because you'd never think of Cher as a rapper.
The clothes are iconic, too.
I love that it's a mix of high-end designer fashion and low-end sportswear, which I still love to implement in my own life to this day. I love that it's ridiculous and tongue in cheek. It's a little bit costume-y, it's bright and young — especially Dionne's outfits ­— those big hats! So that's what I love the most. I always want to wear the craziest outfit that is completely inappropriate for wherever I'm going, and everybody in Clueless is wearing one of those outfits.
I know. Dionne's huge church-lady hats are incredible.
Yeah. I wish everybody would dress completely inappropriate for one day, like the most inappropriate you could dress. It rubs off on people, and it gives off a good energy for people. I would love that.
Who are some of your favorite female rappers?
My favorite era in music when I was a kid was when there was Missy Elliott and Trina and Eve all at the same time. I just enjoyed that so much. And I enjoyed them all equally — I would really love to see something like that come back full circle and be kind of prevalent again.
What about style icons from that era?
I would say definitely Lil' Kim and always Missy Elliott. Probably more so Missy Elliott for me. Even though I love Kim — I love her to death — but she was really wearing expensive lingerie and fur coats and so as a teenager, I was like, Well, I can't wear that stuff. Missy Elliott was a bit more doable for me. Plus, she was so cool in her first videos [that came out]. She wore a fake bald cap, she had rhinestone eyebrows, she wore a trash bag. She was a space alien with Da Brat in that weird red album. She was wearing all the wackiest things, and they were so cool. She inspired me to go buy Adidas sneakers that were Velcroed up to my knees. That's the worst sneaker I've ever heard of, and she made me want to wear it. And I did wear it. And I got on a train for two hours to buy them.
What did you wear those with? You can't wear those with jeans, can you?
I would wear them with cargo shorts, which is equally as bad. And, definitely, a matching Adidas jacket would have to happen, with some rhinestones on it.
So what is your style philosophy now if it's not cargo shorts and Adidas jackets?
I always grew up thinking I had a red-carpet style. [Laughs.] Even though I didn't. I didn't really feel competent before, but going to fashion shows has been an influence. I like to be feminine but cheeky, and I love to be tongue in cheek, but still feel chic. I think it's fun to play around and not take it too seriously. You can't always be worried about if you're going to be on the worst-dressed list. I'm young; I'm only 23. So I'll still throw on a wacky outfit at a festival and not worry too much about that kind of thing. But I also think it's nice to keep a degree of elegance in something chic. You gotta have those staple pieces that you can either make wild and crazy or turn down too. That's how I think I kind of dress: I have my key pieces. And some days I look like a lunatic, and other days I look like an old woman.
What are you going to wear this summer?
Oh, I wear this a lot in the summer: a good pair of Chuck Taylors, a nice pair of short-shorts, and a big, loose sports jersey. You can never go wrong. You've got your legs exposed. But you've got to keep your shoes flat and keep your hair out of the way because it's so sweaty! A pair of short-shorts and a crop top — it can get a little too exposed. I think it's cooler to show off your legs and not have it completely be hoochie mama.
Do you get a lot of catcalls?
Surprisingly, I don't get too many catcalls, but sometimes a group of random guys will try to follow me down the street and secretly film my butt, which is really weird.
That's terrible!
It's really strange, and it's like, "I know you're following me, doing that, right?" It's like, You're not invisible.
Well, besides the creep shots, what are the perks of having such a recognizable figure?
Wearing a tight dress: That's the best thing about having a nice curvy figure. When you put on a nice body-con dress, and it's just so easy. You know you're going to look good in it and don't have to worry about it. That's the No. 1 best go-to item in my closet.
I think Beyoncé calls that your freakum dress.
Yeah, I love how I look in a freakum dress. That's the best thing about having a big butt.