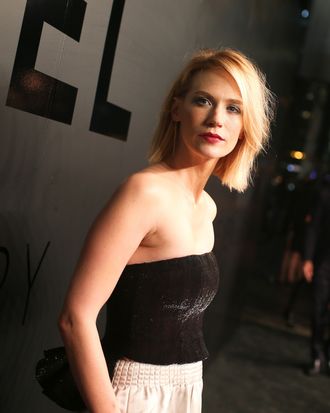 Photo: David X Pruttingnyc.com/BFA
You have your DGAF role model all picked out, don't you? Somewhere on the DGAF scale between Rihanna, Aubrey Plaza, Ilana Glazer, or Cara Delevingne? Well, I am going to encourage you to open your heart to one more DGAF supermoon. Can I talk to you about January Jones as a possibility?
Oh, did you just shake your head so hard in disbelief? Yes, there was talk of January Jones as icy or humorless, especially after one of the many actors who played young Bobby pointed her out as intimidating ("everyone else is so nice") and she dressed as Betty Draper for Halloween. But allow me to suggest that this chilly exterior is just how Jones's particular brand of DGAF manifests itself. To be a female celebrity is to be constantly asked to please others. You want your stars warm, friendly, "relatable," just like us? Nope, sorry, not happening: January Jones does not feel like it, and she does not care what you think. And we applaud that.
Last night, Jones returned as Betty (Draper) Francis for Mad Men's final season. In honor of that fine occasion, here follows 20 airtight arguments in support of January Jones as a laudable DGAF hero:
1. She doesn't smile just because you want her to. A New York Times profile last year begins by noting that it's difficult to make her smile and she avoids "the dithery banter that in Hollywood passes for charm." She said of her Mad Men role: "It's hard for me to understand how she can put on a smile and be the happy housewife."
2. She partook in a paparazzi-documented cab ride of shame. Barefoot, tiptoeing through the grass.
3. She says bitchy stuff. For example, in a recent Instagram, "You know you've lived in LA a long time when reading home design magazines at a Pinkberry doesn't make you feel like a waste of space whatsoever." Sometimes she says bitchy stuff about the word bitch. When asked a question about supposedly decrying "bitches in high school who said I wasn't pretty" in another interview, Jones answered:
Where are you getting this shit? It sounds like something I might have said when I was, like, 15. The bitches in high school were bitches because I was pretty.
4. She is not a people-pleaser. She does awkward interviews (example one), with no effort to make the interviewer feel like they asked good questions. And she doesn't care to compensate: "I'm not trying to sell myself. I wouldn't know how."
5. She doesn't tell you anything she doesn't want to, specifically the one thing we all want to know: details about her baby's father.
6. She clearly enjoys how her silence on subjects drives people nuts. In an interview with Net a Porter's the Edit.
As an actor, if people know too many things about you they won't believe you in a certain character. You don't want people to have a preconceived idea of who you are … It's just not something the public needs to know. I don't divulge my sexual preferences. There are parts of your life — no matter what your job — that should remain private. 
7. She brags about being thin, and really trying to gain weight.
8. She was perhaps the most scandalously-behaved party in a purported situation with Miley Cyrus. (A dubious example, sure, but there was a tabloid rumor that she was sleeping with Cyrus's then-fiancé, Liam Hemsworth. Jones maintained silence through a grueling paparazzi question-barrage at the airport on the subject.)
9. She loves playing a villain. In an interview with Vulture, she said:
I just think it's really fun for me because it's not things that I get to do in real life. I'm not going out and punching people and blowing shit up. I mean, if you're an actor, wouldn't you want to do fun stuff like that? Like shooting and riding horses and shooting a guy's dick off and things?
10. She talks shit about ex-boyfriends and people that weren't ex-boyfriends: Jones on Ashton Kutcher, Jones on Jason Sudeikis.
11. She cares not at all about maintaining a decorous length in her Instagram hashtags. For example: #ironicthatkaraokenowgivesmenightmares.
12. She's going to scold you about sharks. Here's her op-ed. Here's a depressing Instagram post.
13. She thinks it's funny when people are mean to her. For example, Jones cited Zach Galifianakis as one of the "most naturally funny" men she had ever met. He told the backstory of their relationship:
That's really funny because, if I remember correctly, she and I were very rude to each other. It was crazy. I was at a party — I'd never met her — and she was like, "Come sit down." So I sit at her table and talk for 10 minutes, and she goes, "I think it's time for you to leave now." So I say, "January, you are an actress in a show and everybody's going to forget about you in a few years, so fucking be nice," and I got up and left. And she thinks that's funny.
14. She wears exactly whatever she pleases. She doesn't have a stylist (this discussed while she offered her backstage assistance to Donatella Versace). She will tell you when she's uncomfortable. She says she aims to shock, in the vein of a David Bowie character. When the self-appointed red-carpet judgers criticized her Met gala costume last year, she said:
Those people don't have degrees in fashion. Why would I care what they say?
A fashion aside: Jones has said she thinks that Sally Draper will grow up to be Anna Wintour.
15. She quotes Bukowski on her Instagram. Bam! There goes your happiness! Here's how she puts it: "'Find what you love and let it kill you.' Bukowski #notforrealstho."
16. She was dismissive of how little beer Jimmy Fallon used in his cups for beer pong.
17. She's not afraid to whine. Being sick, headaches from wigs, etc.
18. She loves posting ugly photos of herself as a child. In her participation in Throwback Thursday, careful calculation confirms that of the 17 posts she has put up, 11 are firmly unattractive. To note, she had 11 different awkward haircuts during these years.
19. She likes people to do stuff for her. Hold her umbrella, comb her tangled dress at the Emmys while she eats chips.
20. She said she's mostly making all of this up anyway.
When I talk about myself, half the time I'm lying … I do it because I'm bored … I'm in my own head. I'm doing things. Keeping things interesting.