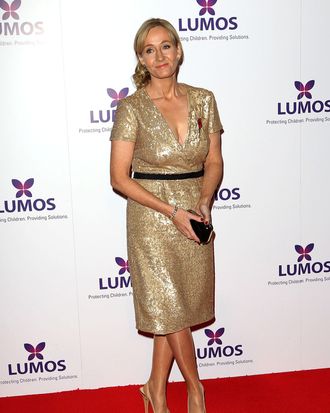 Photo: Danny E. Martindale/Getty Images
J.K. Rowling — who put her characters in uniforms of sensible boots and shapeless robes — has professed that she has a deep infatuation with fancy high heels. She just hosted a Radio 4 segment devoted to the subject.
Rowling mentions that her personal discovery of fashion was almost forced upon her after her rise to literary fame, and criticisms came in about her appearance. No, it seems as if she has to talk herself out of fashionable shoes — and only does so for reasons of function, "because there does come a point when it gets a little bit ridiculous — you need to be able to walk the dog, and I do walk the dog, and I don't do that in stilettos."
Rowling's radio segment on high heels centers on the "myth and power" of shoes. There is a good deal of smart talk about occult slippers and vicious red shoes and all sorts of other magical footwear. You can listen here, at the 35-minute mark.