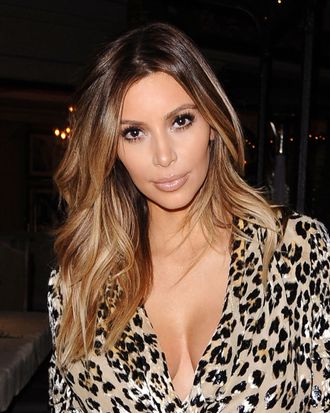 Photo: MICHAEL SIMON/www.startraksphoto.com
Blank-canvas Kim Kardashian revealed newly lightened hair while out to dinner in L.A. last night. The new color looks similar to her old ombré, but appears markedly darker at the root — a mix of the super-blonde and very dark shades she's worn recently. It is, perhaps, best described as bronde — somewhere between blonde and brown. Either way, bronde probably goes better with the gilded moulding at Versailles.
Update: Due to a mislabeling, it turns out the above image is actually an old photo of Kim Kardashian. Rest easy, Kimye-wedding memorabilia makers: You can keep her hair dark brown on those Kimye-wedding commemorative mouse pads.