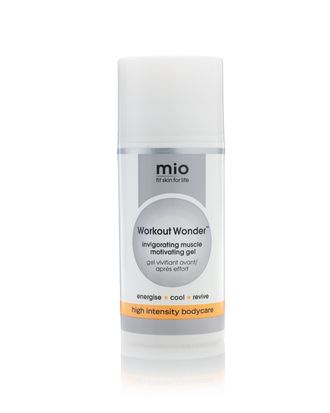 As I've been subjecting my body to Beyoncé workouts, I've come to realize that being Beyoncé is really, really hard (duh). We all have the same number of hours in a day, yet Beyoncé still manages to do more squats than the rest of us. And after a succession of Beyoncé-inspired workouts, I was moving about as fast as Blue Ivy. To speed things up, I turn to Mio's Workout Wonder Muscle Gel.
Mio, the creators of the cult pregnancy skin-care line Mama Mio, have created a line of high-performance skin products to give you "fit skin," meant to help with fitness-related beauty concerns, like the kind of achy muscles that make it painful to sit through an entire episode of The Daily Show. The Workout Wonder Muscle Gel is a tingly gel that you apply to sore muscles to calm and invigorate them (like a fancy version of Ben-gay). Olympians can sit in ice-cold tubs after events to soothe inflamed/overworked muscles — this is the same concept, except less uncomfortable
Following one class in which we attempt the choreography to "Crazy in Love" and I begin to feel sports bra indentations forming, I apply the gel pre-shower all over my upper back. The effect is immediate — it feels like a cooling menthol patch (minus the smell). The gentle tingle lingers all the way as I take the subway downtown to uptown, or roughly the same amount of time it takes for Beyoncé's chef to whip her up a tasty vegan meal. The gel, made out of a blend of arnica (a flower that's like a daisy, but more tingly), natural magnesium, horse chestnut, murumuru butter, and fresh spearmint. The gel also slightly resembles a hydrating cream, thanks to the murumuru butter. It's not enough moisture to act as a hydrating lotion on its own, but it's non-drying.
After applying the gel to my sore legs as well, I feel better. While the effects are definitely temporary, a few days later, I'm back at yet another Beyoncé-inspired workout class. Surfbort.