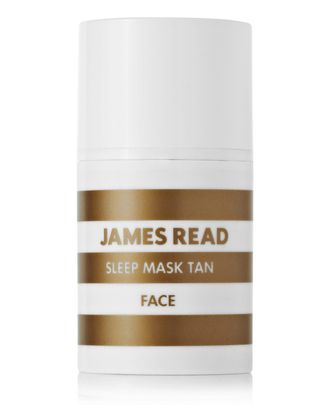 To test spring's newest crop of self-tanners, I've donated my body to science — and in the process, have become Franken-tan. I begin each night's sleep as a normal girl and wake up the next morning with a different limb ablaze in a new shade of bronze or Garfield orange. But when the Sleep Mask Tan by James Read — billed as a tanning and moisturizing sleep mask — came up next in my docket, I immediately demurred from testing it on my face, even though it's a favorite of Rosie Huntington-Whiteley. 
The newest addition to the #WokeUpLikeThis beauty category, this "mask" is really a gel moisturizer that contains a small amount of self-tanner. Two things distinguish it from the sea of other self-tanners: It is purportedly streak-free, and has virtually no wet cat litter/rotten perfume/dead flowers self-tanning scent.
I tested it gingerly on my forearm. The gel spread on easily and with the slightest bit of tint, so you can see where you're applying the tan. It felt exactly like a moisturizer, which is not a surprise considering the formula contains moisture-attractor hyaluronic acid as well as aloe vera. Since I was just testing it on my arm, I slapped on a bit and went to bed. The next day, I woke up and saw that my arm was pleasantly sun-kissed. It was the barest of tan, imperceptible to basically anyone else.
The next night, I tried out my face, taking care to spread the gel in a light layer everywhere. I woke up the next morning with what looked like a light dusting of bronzer. The shade change wasn't so obvious as to necessitate a different foundation color (although it is buildable), but just looked like I had spent an afternoon playing tennis after a long winter. I even spotted a section of tanner that I missed along the hairline, but the shade difference was so slight, no one noticed. Now maybe I can sleep-tan my way to Gwyneth Paltrow's abs.