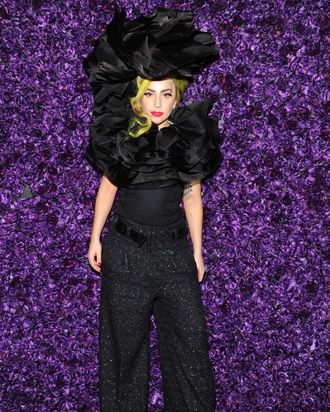 Photo: Kevin Mazur/WireImage
People who practice mindful meditation often center themselves through the repetition of a phrase. Lady Gaga, on the other hand, centers herself through an alternative practice of her own. SFGate.com reports that Lady Gaga told Porter Magazine:
When I have my wig cap on and I'm taping my face, it's a sort of meditation for me. Every day, it starts the same way. It's like a mantra.
Who would you be if you didn't have limiting belief, Gaga? Continue to walk us through your practice.
I wash my face, I pin my hair back and put on a wig cap and I ask, 'How am I going to form my eyes today with this tape? How will I pull back my neck with tape?
Lady Gaga, well versed in the art of the non-surgical face-lift — long practiced by drag queens, Norma Desmond, and Cher. Whatever helps you attain a state of altered consciousness, Gaga.