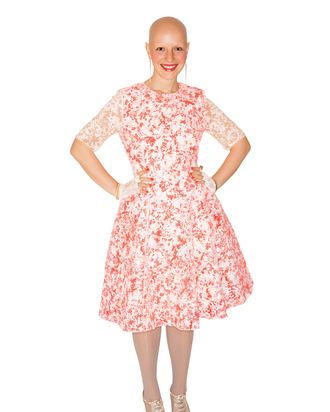 Photo: Lucas Michael/New York Magazine
You look so spring-y!
I'm wearing Honor, the brand I work for. My style is glitzy grandma, but I'm also inspired by the preppy look: I grew up on Long Island around girls with blonde ponytails. I've always had some Wasp envy.
When did you move to the city?
I came here when I was 18, and I paid $500 for a windowless room. By day, it was a psychoanalyst's office. Every morning, I had to lock my stuff in a closet and leave the room as if I'd never been there. The irony is I've now been in analysis for seven years.
How often do you go?
Four times a week. But I think I'm nearing the end. Even though we've never had a real conversation, I have this elaborate fantasy about my psychoanalyst: Once I saw he had a Veniero's bag, and from there I imagined that his family is from the Midwest, and that once when they visited back in 1975, they all went to Veniero's and had the cannolis. Now whenever he goes home to Chicago he has to bring the cannolis from Veniero's. It's going to be hard to say good-bye.
Lightning Round:
Least favorite part of the city: "Williamsburg: It's just too much."
Allergies: "I have alopecia, so I am more susceptible to allergies. I get hay fever and am intolerant to gluten, dairy, eggs, and soy." 
Favorite restaurant: Souen. "I always get the macro plate with an extra side of avocado and every dressing."
Workout regimen: Physique 57 before work. "It's all super-ambitious, driven women. I imagine everyone in my class is a boss."
Twenty, 25, or 30 percent for a taxi tip? Twenty percent.
*This article appeared in the April 7, 2014 issue of New York Magazine.