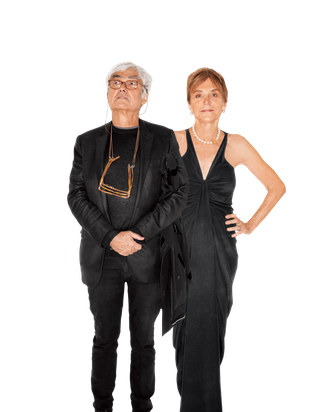 Photo: Lucas Michael/New York Magazine
Well, this is funny if not entirely a coincidence: Your son Lucas, a photographer for this magazine, shot you. Does he take lots of photos of you two?
Rafael: Yes, mostly naked.
Diana: You can't say that in the magazine!
What's the sweetest thing you've done for Diana recently?
Rafael: You know what, I haven't done anything. I should. We've been married for something like 48 years.
Diana: Forty-five. I left you two little chocolates yesterday next to your glasses. Did you get them?
Rafael: Oh yes, of course. That was really sweet.
Where do you live?
Diana: Tribeca; we were on the Upper East Side for 25 years, and it was all—
Rafael: Insipid, boring, old people.
Diana: No … I used to say it was "brokers' land." You know those women? Here, we're close to our family; it's our little town. On Sunday, my granddaughter came over, and we made a movie. It was called The Monkey Is Constipated. She played a monkey, and I played a lion.
Lightning Round:
Rafael:
Reason for so many pairs of glasses: Each serves a different purpose; reading, driving, and examining fine details.
Hobbies: Playing the piano.
Number of pianos: 7.
Favorite building: Seagram.
Diana:
Favorite TV show: "We … what's the term? We binged on Breaking Bad."
Favorite walk: "I'm not a walker."
*This article appeared in the April 21, 2014 issue of New York Magazine.