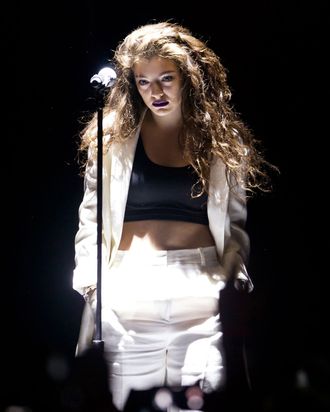 Photo: Gilbert Carrasquillo
In an interview with Canada's Fashion Magazine, Lorde says menswear is her personal-empowerment outfit:
Jackets and pants are my power clothes. I agree with Annie Lennox when she said, "wearing a suit is like wearing armour." I wore pants and a shirt at the Grammys because it made me feel confident. I remember looking at early photos of Patti Smith when she was wearing those men's shirts she chopped off at the sleeve. That, to me, is the strongest look in the world.
She cites jackets and trousers by Phillip Lim and Stella McCartney, as well as Céline and Comme des Garçons. Isn't it charming that Lorde speaks in the style of a three-paragraph essay? Thesis, supporting points, bonus quote (!), conclusion, and restatement of thesis.