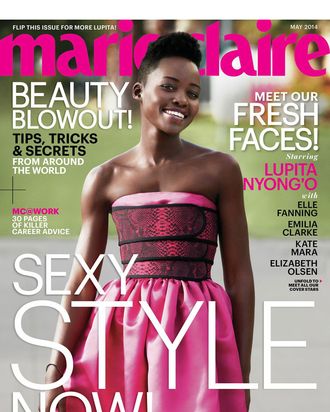 Photo: Cedric Buchet/Marie Claire
Lupita Nyong'o is on one of the covers of the May issue of Marie Claire, and, of course, looks beautiful and perfect in every way — because she is. Her cover is just one of five featuring fellow Hollywood "It" girls: Kate Mara, Elle Fanning, Elizabeth Olsen, and Emilia Clarke.
In the accompanying interview, the cover girls somehow managed to sidestep the stereotypical "who, me?" shtick that all newly minted "It" girls seem to exude. Their answers were humble-ish yet confident. When asked how it feels to be called gorgeous every waking moment of her life, Nyong'o just owned it: "Being called gorgeous is not a bad thing! But at the same time, I don't want to thrive on people's opinions of me."
And when the magazine asked Elizabeth Olsen if her style inspires her older sisters' clothing line, Elizabeth and James, she responded: "God, no. I just try and see what they do and copy them like the rest of the world does."
A request for more cover stories featuring these ladies, please.