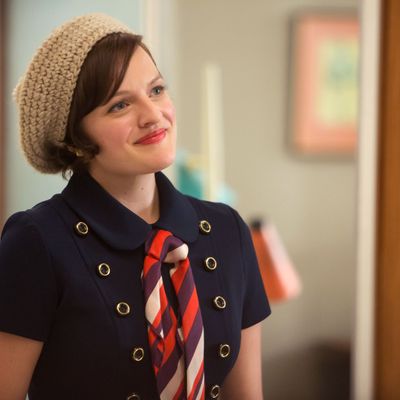 Photo: Jordin Althaus/AMC
The show's season-seven premiere opens in dreary, Nixonian 1969 — on the cusp of conversation pits, key parties, and avocado-as-accent-color — but it gets an infusion of California style when newly "bicoastal" Don Draper heads west on a TWA flight to reunite with his estranged wife, Megan. Emerging from a convertible, she's in a sky-blue babydoll dress that's Modishly short, translucent, with a bow at the chest — at once the embodiment of her arrested development and yet also something provactive to flaunt her independence to Don. She's in the driver's seat now. (It's probably no accident that the tanned and L.A.-ified Pete Campbell wears the same hopeful hue for his lunch with Don.)

For contrast, back home in her macramé-strewn bungalow, Megan dresses down in true Laurel Canyon style: a ruffled white blouse, jeans, and an orange kerchief in her hair (a gift from Don). Megan has always done casual, at-home style well; recall her barefoot, in turtlenecks and cigarette pants practicing her lines in her old New York apartment. She's landed a part on an NBC pilot and dines at smart restaurants with her agent, but she hasn't quite "made it" yet — she still needs to get her teeth fixed, and she doesn't own a TV, because it's a verboten accessory in her bohemian neighborhood. Megan remains a chameleon, overhauling her style to fit into each new set of surroundings and rightly insecure about her future.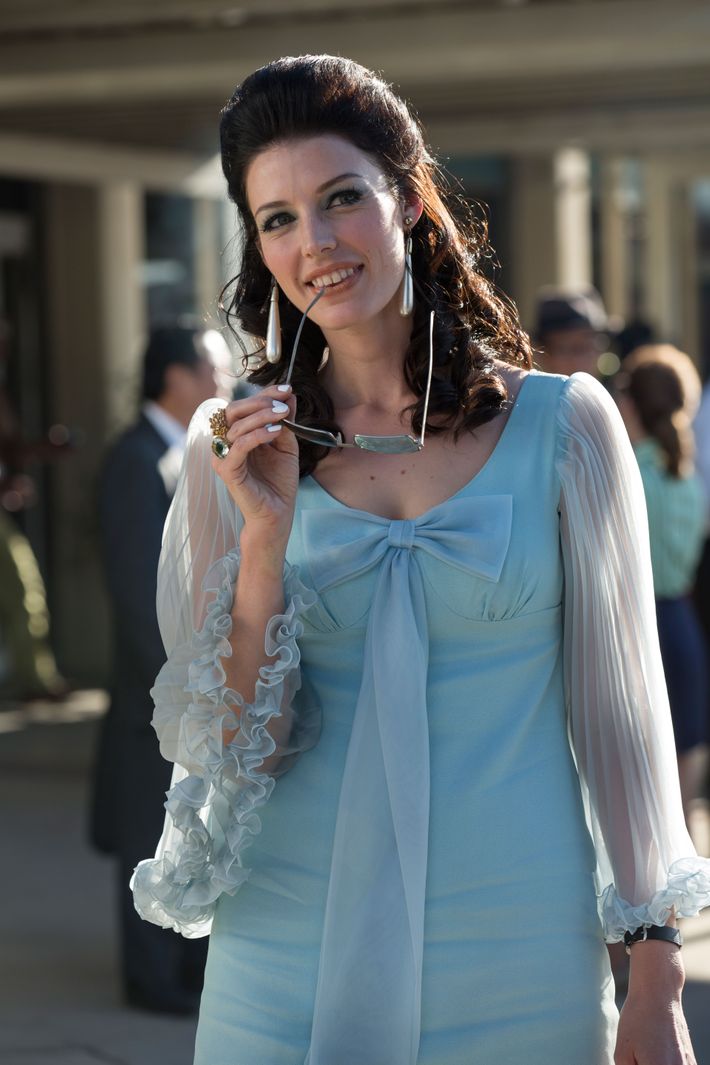 Back in New York at SCDP, Peggy continues with her lack of style, skewing girlish and almost regressing from her brief moment of self-assertion in season six. (Note the scene where she bickers with her tenant's son while wearing knee socks and a Tam o' Shanter. She doesn't exactly scream "authority figure.")
Joan is sticking to her formula: form-fitting '60s dresses in jewel tones. Perhaps the wardrobe stasis reflects the fact that little has changed for her — she still finds herself doing grunt work while men lecture her about the "Four P's" of advertising. Her color palette is updated a bit, though, in the scene where she consults a business-school professor: a burnt-orange blouse, chain blouse, and rust-colored skirt give a nod to the coming Me Decade.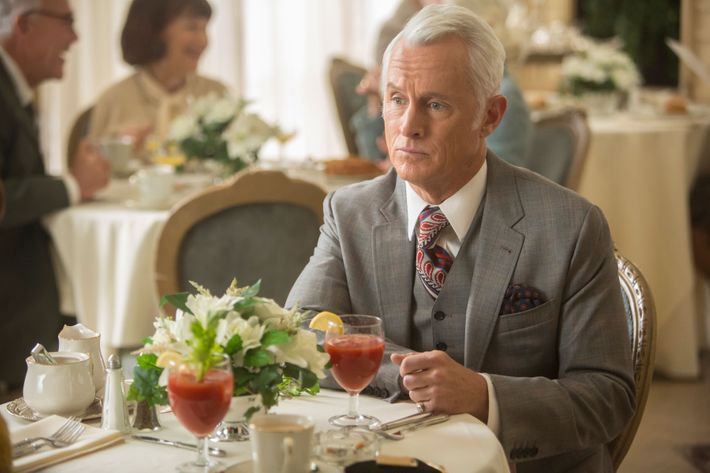 Roger Sterling's paisley tie — a hint about the polyamory-loving bohemian beneath the gray flannel suit — might be the most telling touch in the episode. When he lunches at the the Plaza with his daughter, in her Jackie O. getup (complete with pillbox hat), she looks a bit like his ex-wife — a wonderful nod to the fact that not everyone in this new generation is wilder than their parents.