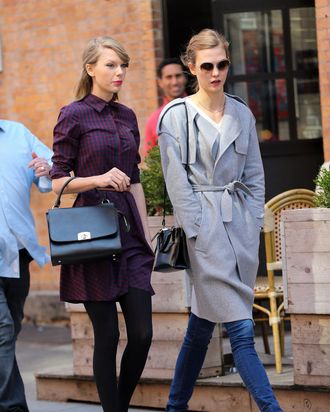 Taylor Swift was seen walking in New York with her sister-in-hair and current BFF, Karlie Kloss. (Errand-cat Meredith stayed home.)
Earlier this year, Swift signaled her interest in Kloss by announcing that she wanted to cut her hair like Kloss, which she then did. The two cemented their bond with an Instagram-heavy road trip along the Pacific Coast Highway — no doubt reciting Thelma & Louise quotes and belting car tunes.
It must be getting serious now, though: The duo took a warm-weather stroll in coordinating ladylike spring ensembles. We'll be at the matching-outfit stage of courtship before you know it.