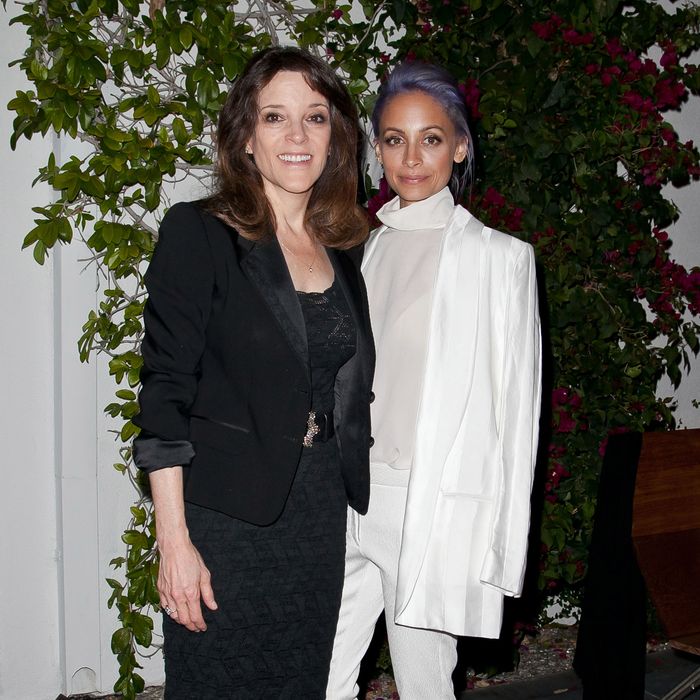 Photo: Tibrina Hobson/Getty Images
Followers of the Kardashian clan were introduced to an unlikely new character this week: Marianne Williamson, the independent candidate running for soon-to-retire Representative Henry Waxman's seat in California's 33rd district. "I went to hear @mariannewilliamson speak the other night w @kourtneykardash & @rachel_roy," Kim reported on Instagram. "Very inspiring!" Also inspired by the 61-year-old author and spiritual adviser: Katy Perry and Nicole Richie, who attended a recent campaign event sporting new green and purple dye jobs respectively; Steven Tyler and Chaka Khan, who performed at a fund-raiser; and former Desperate Housewives Eva Longoria and Marcia Cross, who reunited at another Williamson event. The prize for most inspired by Williamson goes to Alanis Morissette, who has written and recorded a song for the campaign called Today.
Williamson is not the first politician to wrangle celebrities for publicity but, two months away from her first primary race, she is already one of the most indiscriminate. The photo ops and social-media plugs have outlets like the Daily Beast wondering: What kind of serious political candidate allows a purple-haired socialite to represent her in a campaign ad? From a certain perspective, the support of the Kardashian Kaucus could be as much a liability as an asset. But I'd hesitate to dismiss the value of a tabloid-ready Kandidacy just yet.
For context, celebrities also played a big role in Williamson's past lives as a New Age spiritual guru and AIDS charity founder. According to a long Businessweek profile, Williamson served as a spiritual adviser to Cher, officiated at Elizabeth Taylor's wedding, and hung out with Hillary Clinton when she was First Lady. She has fans in fellow outsider/celebrity politicians Dennis Kucinich, Jesse Ventura, and Jennifer Granholm. Her most influential supporter might be Oprah Winfrey, who bestowed the Oprah effect on Williamson's 1992 book, A Return to Love. (Winfrey been curiously quiet about Williamson's candidacy thus far, despite stumping for another friend in a Virginia race.)
What's different about Williamson's third act is that, in the race for California's 33rd Congressional district — one of the wealthiest in the country, made up of towns like Brentwood, Beverly Hills, and Santa Monica — "socialite-cum-celebrities" like Nicole Richie aren't just publicity props. They're also the constituents. In Businessweek, Williamson explains that her platform is very similar to the establishment Democrats in the race — her major issues are campaign finance reform, taxing the wealthy, the environment, and agribusiness reform — but her background appeals to the wealthy pseudo-hippies and Occupy millennials who are either squeamish about politics or feel excluded from it. Her strategy is to attract independent voters who usually skip the primary — like the Kardashians.
And whenever women like Kim Kardashian — who are known for their looks or style — rally around a political cause, both the women and the cause are met with suspicion. (New York Comptroller Scott Stringer's fashionable following comes to mind.) The women are mocked for being ill-informed bandwagon supporters. The candidates are accused of being tacky and desperate. The message this sends to pretty girls is that politics are a trap: You will be called dumb whether you stay silent or speak up. Williamson's willingness to include women deemed unqualified to participate in political life (at the risk of her own credibility) is, in its flashbulb-friendly way, a bold move — one that might even deserve some feminist applause.
She told the Daily Beast:
Throughout my career I have been an advocate for women, in all aspects of their lives. This campaign is reaching out to women across the district hoping to engage them in the political process. The endorsements of these young influential women are a great vehicle to amplify the message of getting money out of politics, encouraging the return of this country to what the Founders intended: a government of the people, by the people, and for the people. From issues of poverty to war to economic justice, women can make the difference in moving the country in a more positive direction.
Besides: Kim Kardashian, fresh off a best-selling Vogue cover, has demonstrated her ability to penetrate spaces previously believed to exclude sex-tape reality stars turned trophy wives. Why not politics next?