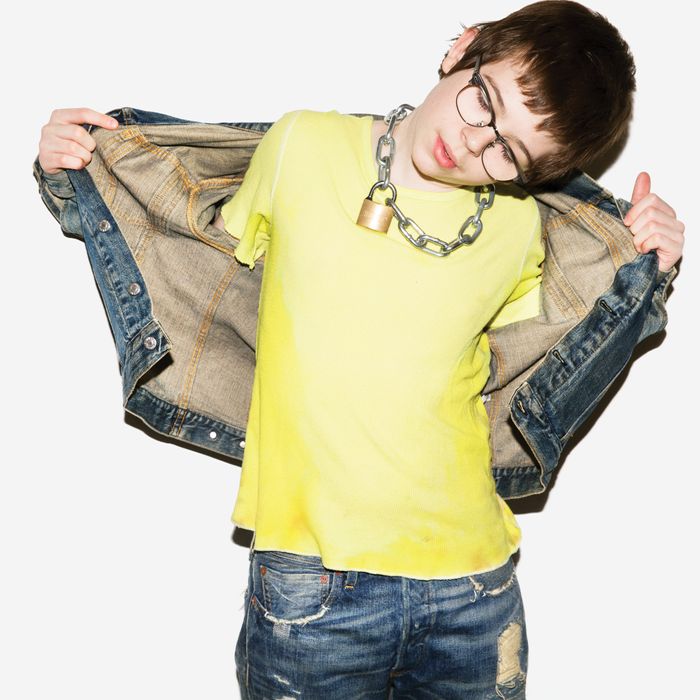 @miketheruler
Age: 13
Instagram Followers: 5,271
The first photo of Mike the Ruler that really made clear what was going on with him appeared on his Instagram page about a year ago. In it, the young boy is standing in the middle of a sunny road wearing a Rick Owens hoodie, a pair of black Rick Owens pants tucked into Rick Owens socks, and a white tee by Supreme. You can't see his face because the hoodie is so big the top hangs down to his upper lip. In the comments, a fellow streetwear enthusiast has written, "All hail the king of the youth."
Mike's all-consuming love for high-end fashion has only grown more intense since that picture was taken. Meanwhile, he has become familiar to the downtown designers he worships, and when he comes into stores like Supreme and Opening Ceremony he gets hugs from staff and sometimes goes home with hand-me-downs from their own closets. Last summer, he was featured in a video for the website of V-Files, the streetwear boutique, and by the following winter, he was being interviewed by The Fader about how to dress and what music to listen to for fashion inspiration. Today, he is a mascot — not only for the brands he admires, but for a way of being cool and obsessively knowledgeable about culture that kids his age could have never been before the internet.
"I don't really like big brands," Mike says. "I like little designers who are creating something new." His favorites right now are Telfar Clemens ("Their clothes are very masculine but androgynous, with a very athletic feel"), Hood by Air ("I've been to two of their fashion shows, and I own a good amount of pieces from them"), and Eckhaus Latta, which he describes as "conceptual" and "like nothing you've seen before."
When he went to the Eckhaus Latta showroom the other day with his mother, Karen, a lawyer, he examined a shirt from another designer hanging from a rack and complimented the woman who had created it on her Vivienne Westwood reference. "She was like, 'I can't believe you caught that,'" Karen says. But most of Mike's wardrobe comes from thrift stores and consignment shops, where he digs through garments looking for pieces from his favorite designers' past collections.
Not so long ago, Mike was into Legos. Everything changed when, in 2011, he saw the Alexander ­McQueen show at the Met. "These clothes were very overwhelming," he says. "They were dark. Some were disturbing and beautiful at the same time. And it felt like they were demanding something. It put this thought into my head that clothes were important and they have their own personalities and they tell stories when you wear them."
At school (eighth grade), Mike has to wear a uniform most of the time — "a blazer and khakis and, like, ugly shoes" — and when he gets the opportunity to put on stuff he actually likes, some of the other kids make fun of him. "They say rude crap to me about it, like, 'What are you wearing? You look homeless, you look gay, you look stupid.' But I don't care what they think, because they don't get it."
At home, he can wear what he wants, explore his mom's closet, and work on his own designs. There — and on Instagram — "I feel like I can be the person who I am."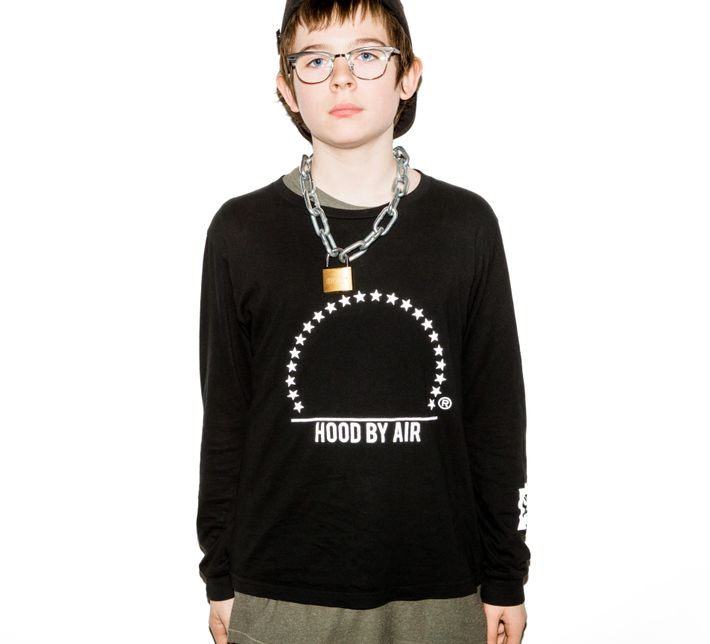 Shirt: Hood by Air.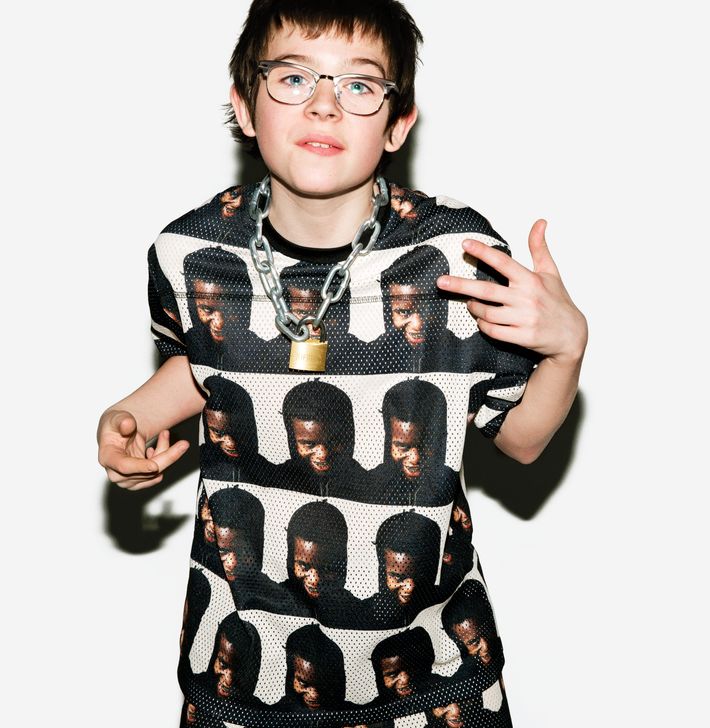 Jersey: Wil Fry featuring street-style icon Ian Connor.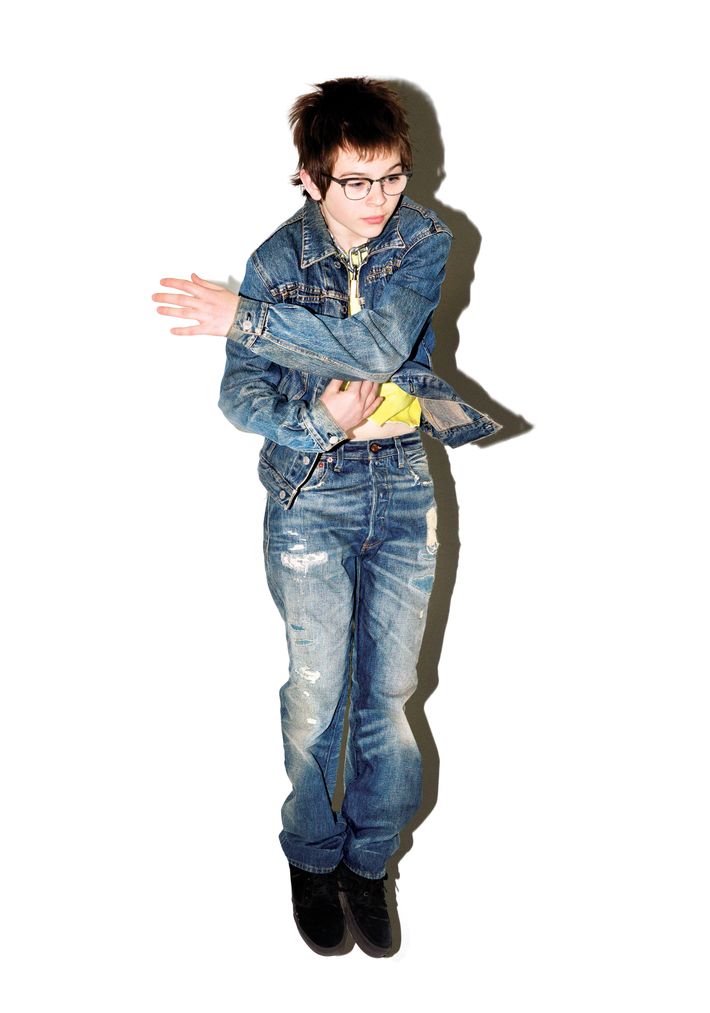 Jacket: old Helmut Lang. Jeans: repurposed antique denim Levi's.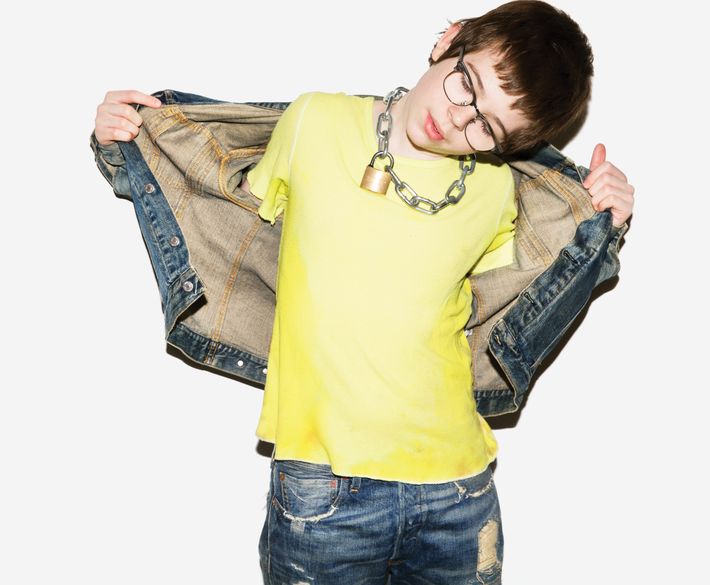 Shirt: Eckhaus Latta. Necklace: gift from stylist at Hood by Air show.