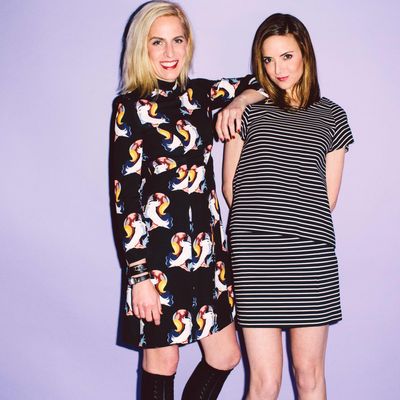 When it comes to surfwear for women, the available options usually only include some mixture of baggy Roxy board shorts and Hawaiian-printed Quicksilver swimsuits. Those were the options facing longtime friends Jillian Demling and Karen Mulligan who, after commiserating about the deficit of attractive rash guards, decided to launch performance swimwear line Pret-a-Surf in 2010.
The duo — Demling is Vogue's entertainment editor, Mulligan is Annie Leibovitz's studio manager — used their industry contacts to transition into design, first introducing a line of rash guards, bikinis, and maillots in fashion-feeling prints and colors. Four years later, the collection is stocked at big retailers like Barneys. Along with the main collection and a collaboration with J.Crew, Demling and Mulligan have plans to launch a secondary line to compete with the largest swimwear labels. They told the Cut about how they won the heart of Mickey Drexler, the challenges of launching their line, and how they balance business with their day jobs.
How long have you two known each other?
Karen: We met, how many years ago now? Was it 13?
Jillian: Angelina Jolie's first Vogue cover [April 2002], that was when it happened.
Karen: Yeah, I had heard about Jill and we had talked on the phone maybe a couple times. It was one of those things where people would say to me, "Oh you have to meet Jill Demling, I think you two would get along." But people say that all the time. It was a three-day shoot and we were holed up in this studio. We just really clicked and that was the beginning of everything, I guess.
And when did you start thinking about Pret-a-Surf?
Jillian: We started thinking about it in the summer of 2009.
Karen: That following Christmas, a bunch of friends and Jill and I were going to Costa Rica to go surfing. Jill was going to surf for the first time. We went to this store in the Hamptons and I was buying a surfboard and looking at the clothing and thought, This stuff is just so horrible. When we went to Costa Rica, we wore all the clothing that I owned. We saw pictures afterward and were like, This is hideous.
Jillian: I looked through her stuff to see what was the least offensive. And the least offensive was brown shorts and a pink top. It was embarrassing.
Karen: We were like encased sausages. It was not …
Jillian: Nothing fit well.
Karen: Everything [in surf shops] was for teens or men. Women wear rash guards to protect their skin, but no one had started doing ones that were cuter and more fashionable.

So how did it go from realizing this stuff was ugly to launching your own line?
Karen: We started talking with people about our idea and just seeing if it was interesting. We know a bunch of guys that surf and that own surf shops. And then we showed a female professional surfer one of our original samples.
Jillian: But to get to that first sample, we were hooked up with this guy Boaz David, who is now our production manager. He had the connections to swimwear fabric production places. It was really a whole bunch of steps, trial and error, before we got the rash guard to fit perfectly.

I remember that first collection. What was the response like?
Jillian: Well, we had samples [in March], so we had missed [buying season]. We didn't even have a showroom, so we both went to Jeffrey [Kalinsky, founder of the upscale boutique chain Jeffrey].
Karen: And showed him our first samples.
Jillian: And he was very supportive of us. I don't think we even had samples at first. We had pictures.
Karen: We had two of the rash guards to feel the material, because the material is important to us. So he took a chance.
Jillian: But basically, by the time we produced, we just had to guesstimate an order, and hope once the summer happened that we could sell to some of the shops out in the Hamptons.
Karen:  We delivered the end of May, right before Memorial Day weekend, which is so insane for spring/summer.
Jillian: Which usually has a March 1st or 15th delivery.
Karen: By September, we had sold out.

Who ended up being your customer? Since your fabrics are performance-driven, is it a mix of serious athletes and people who like that they look cool?
Karen: It's a true mix, from what we can see. With the J.Crew collaboration, there were a lot of teenage girls who bought that. Sixteen- and 17-year-olds. So I think the range is 16 to 70. And I know that sounds crazy, but I think the rash guards are also popular with women who want to protect themselves in the sun.
Given that a lot of professional surfers have worn your stuff off-duty — but have to wear their sponsors gear while competing —  would you ever think about doing a collaboration with a really big sports brand so that you could be a part of the competition circuit?
Karen: We'd be up for it. We've done collaborations with fashion brands [including Thakoon]. J.Crew was big last summer.

How did that project come together?
Karen: We showed Jenna Lyons our first samples out of the box.
Jillian: Just to speak with a professional, to get advice.
Karen: Two years later, we did a little sample sale. I guess, a trunk show, at Flywheel …
Jillian: The three top performers in each class won our second-season tank rash guard and flip-flops. We had a bunch of our new stuff hanging in case people wanted to buy something.
Karen: Mickey Drexler happened to be in that class, so he comes over.
Jillian: He goes to SoulCycle, but only went to this class because it was a friend's birthday.
Karen: Unbeknownst to us, he was obsessed with rash guards.
Jillian: He ended up staying after class with us for 30 minutes talking. He said, "Whatever you have left over, I want you to bring and we'll sell in our [Hamptons] store."
Karen: At that point, we had set up another meeting with J.Crew. We thought it was going to be a meeting with two people. We walked into the room and there were probably ten. Everyone. Some didn't know why they were there. Jenna said, "What do you guys want do?" We said, "We want to design a line for you." She said, "Okay, figure it out." Mickey called us after the meeting and asked how it went. We told him we were doing a line for J.Crew. And he said, "Good. Let me know if you need anything." He's really present and a huge supporter.

You both have jobs aside from Pret-a-Surf. How can you possibly get it all done?
Karen: I think that because of our jobs — our day jobs — we have very rigid work ethic and we're also incredibly organized.
Jillian: We're both Capricorns. I think we're both the type of people that can probably drive a car, put mascara on, and send an email safely. You can always make time for something you want to make time for.
Karen: I'll stay up every night all night to do it, because I feel really strongly about it.
What would you want to do next?
Karen: We talk about free-standing stores.
Jillian: And we just launched our e-commerce site.
Karen: It's been a big undertaking, because you want the right amount of inventory.
Jillian: And you don't want to overbuy.

What about other categories?
Jillian: We tried Pret-a-Sport, a tennis line. It was a little too early to sell it as a separate line, I think. But we'll see.
Karen: We've been kind of folding in some of the tennis ideas into Pret-a-Surf. I think we realized that you don't have to change the name — it can be Pret-a-Surf and be tennis clothing. You learn as you go along. We would really like to do ski and snowboard, that would be the next.

Photographer: Eric T. White; Makeup and Hair: Tiffany Saxby.
This interview has been edited and condensed.