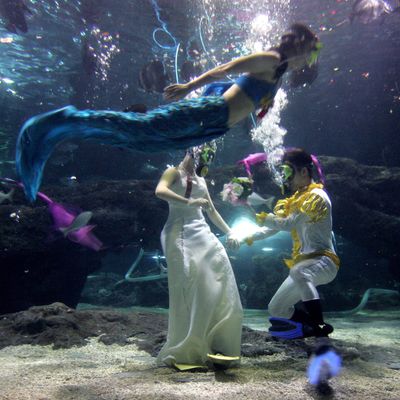 Photo: Chang Liang/ChinaFotoPress/Getty Images
Weddings have now achieved the showmanship level of Spinal Tap–era concert production. Like: You know what this enormous production absolutely is crying out for? A portion that takes place entirely underwater. Just, like, fully submerge the second act. Can we make it happen?
Sure you can. The Sheraton in Fort Lauderdale has just the thing. They are now offering "Underwater Mermaid Weddings" for couples who might think this is a great idea.
There are "10 minute underwater nuptials with a mermaid while guests view from the Wreck Bar," though this isn't the legal ceremony, which is held on the beach by an officiant. Perhaps vows declared in watery depths don't count in the eyes of the law. Vegas should take note.
Regardless, at $95 per guest, the Sheraton will also throw in some movie magic. From the press release:
The nautically-themed Wreck Bar features portholes, roped interior and giant aquariums. Creating an inviting ambiance of a ship's interior, guests will enjoy underwater views of one of the hotel's swimming pools while reliving one of the famous scenes from the movie Analyze This starring Billy Crystal and Robert DeNiro.
Yes, that is also the most romantic movie I can think of. Enjoy your chlorinated vows, newlyweds.