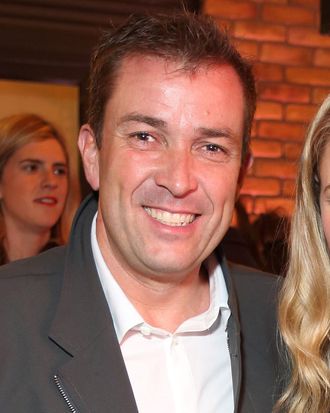 Photo: Mike Marsland/WireImage
Body-con-pants business Lululemon is struggling financially. Shares for the company dropped 5 percent on Monday, following a talk by new CEO Laurent Potdevin last week. Potdevin's presentation was criticized for a lack of hard numbers, reports the Post — but why talk numbers when you can discuss whether this new Lululemon CEO has a yoga-pants-friendly bod? The New York Post spoke to not one, not two, but three of the company's investors about the Potdevin's physique, in another special Post foray into man fat-shaming.
According to one investor, "He was kind of … dumpy." Another questioned whether "this guy is really in touch with the mind-set of his core customer in the athletic space." (Nice ability to work core into that criticism, investor No. 2.) But a third investor suggested a portly body type could actually be good for the brand, following Lululemon founder Chip Wilson's dumb comments about yoga pants being ill-suited for larger customers.
Excellent plan! Hiring a CEO who faces tabloid fat-shaming is a surefire way to appeal to yoga-pants seekers of every size. Lululemon has got this re-branding thing all figured out.