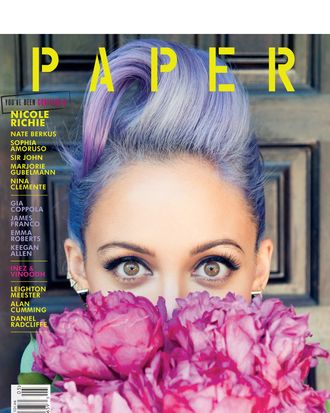 Remember when Nicole Richie was a reality-TV star on The Simple Life, wearing an ill-fitting double-denim ensemble, sporting multicolored demi-dreads, and pouring bleach all over a bar in Smalltown, USA? Ah, the salad days. But what is grown-up, married-mom Nicole Richie up to now?
For its May cover, Paper magazine photographed Richie living the simplest life as an L.A. cool mom — just out there designing, tweeting, dyeing her hair purple, wearing gorgeous clothes, and deep-diving into the Pinterest DIY section to build reptile abodes:
"Sparrow wanted turtles for his birthday, so I got them for him, and he has not looked at them since," says Nicole. "I hated these turtles. I wanted nothing to do with them. They don't even have names. They were just pointless pets sitting in this cage I legit invented the 'turtle coop,' and then I built them the most beautiful outside lagoon that you have ever seen. Now they're mine. No one takes care of them but me."
Turtle Coops, Pinterest, and a kid named Sparrow? We'd still watch that reality show.