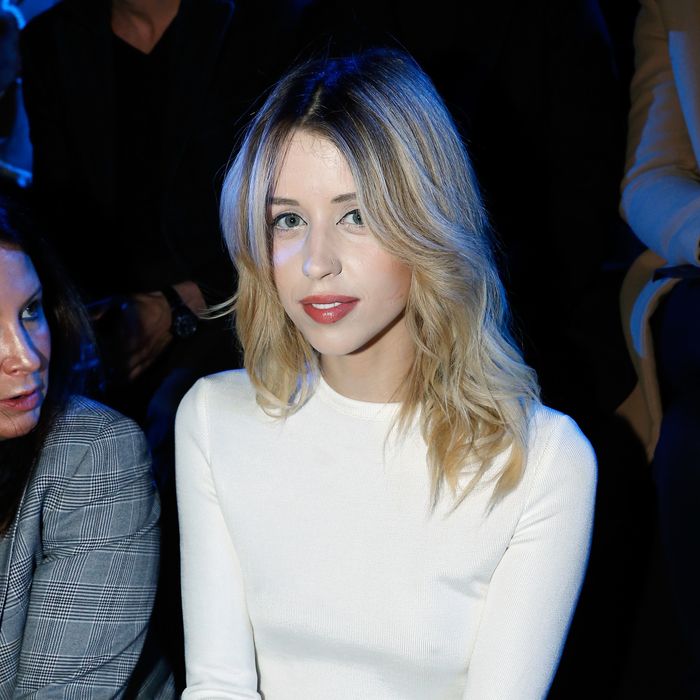 Photo: Bertrand Rindoff Petroff/2014 Bertrand Rindoff Petroff
On its surface, the sudden death of 25-year-old British socialite Peaches Geldof today from yet unknown causes has a kind of grim logic. The daughter of Live Aid organizer Bob Geldof, Peaches's young life was characterized by early deaths. Her mother, British writer and TV journalist Paula Yates, died of a heroin overdose in 2000 at 41, shortly after completing a stint in rehab. INXS singer Michael Hutchence — the father, with Yates, of Geldof's half-sister Tiger Lily — committed suicide under the influence of drugs in 1997 at 37.
In the past two years, Geldof had transformed from the self-described "poster girl for London partying" to a suburban mom whose photograph only appeared on Instagram, in selfies with her tow-headed sons, Astala Dylan Willow and Phaedra Bloom Forever, and their father, her second husband, 23-year-old S.C.U.M. singer Thomas Cohen.
It was like the British equivalent of Paris Hilton settling down, moving to Orange County, and getting really into elimination communication. In the U.K., Geldof had long been famous (along with her sister Pixie) as part of a microgeneration of daughters of aging rockers dubbed the Rock Babes on a 2008 Tatler cover. She moved to New York the same year, at 19, after eloping with Max Drummey (one half of the band Chester French) in Las Vegas, documenting it all as a new correspondent for Nylon magazine. It was the twilight of the hipster era, and she was quickly anointed one of its late "It" girls. Her Williamsburg apartment was one of the Selby's first subjects (Gawker observed that Geldof was not living in it with new husband Drummey, and the couple soon separated); she was photographed wearing a Confederate flag T-shirt; there were rumors of a reality show.
Then, sometime when we weren't looking, Geldof broke up with the 37-year-old Roth, moved back to the U.K., and shacked up with Cohen — a nice, long-haired Jewish boy her own age — in a Victorian house in East London. They got engaged, pregnant, and married, in a family ceremony at the same church where her parents wed 26 years earlier.
After the birth of Geldof's second son — or maybe after the embarrassing paparazzi photos of Geldof losing control of Astala's stroller — she became a vocal advocate of attachment parenting. She debated it on Twitter and morning television and dished to magazines that she had kicked Cohen out of her bed in the name of safer co-sleeping. The couple moved from London to bucolic Kent, where she was photographed with a Baby Bjorn. She shared bath-time photos like it was the eighth "Baby B," along with (most recently and spookily) a photo of her and her mom. In some of the pictures, Geldof looked thin and overtired, but who would expect otherwise from a mother of two under the age of 2?
"Before I was like an Iron Lady, very cynical," she told Grazia in the fall. "Now, I'm the soft, cheesy-pizza lady. I feel like I grew up a lot when I had the children. It healed many things in me that were painful."