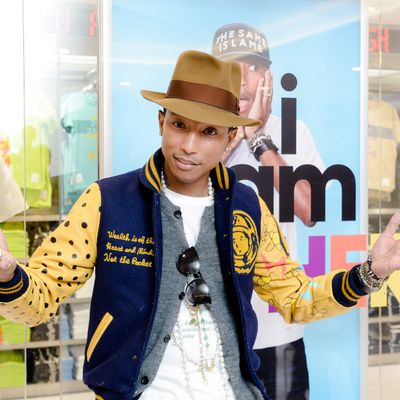 Photo: Joe Schildhorn /BFAnyc.com
Last night, at the launch of his I Am Other line of affordable T-shirts and hats for Uniqlo, Pharrell demonstrated that he has the power to bend space and time, not unlike a plastic spork from a takeout place. He told the assembled reporters:
"I see the moon, I recognize the sun, and I am surrounded by an incredible, serious concentrated team. Life is super-simple. It's like a mosaic. So what's the most important part of the mosaic? Completion … So everyone on my team works, like, 48 hours a day. Everything is so attention-to-detail-specific that we just try not to miss anything."
If you think Rust Cohle Pharrell sounds a little intense, it's only because he keenly feels the specter of time's winged chariot hurrying near. "You only have, on average, 100 years on this planet, if you even make it that long," he said. (The average life expectancy for U.S. citizens is actually 78.) "Every day is a gift." So why not squeeze the message "Copy.Usual.Generic.Same.Uniform.Ditto. Alike.Blah.Expected.Regular.Duplicate.Ordinary.Dull.Usual" onto a T-shirt?
On the style front, Pharrell wasn't wearing his signature hat. "He's on vacation right now," he said, pointing out that he has actually owned the hat for six years and first wore it on New Year's Rockin' Eve several years ago. "Granted, it was New Year's," he said. "Everyone was probably shit-faced at that point. No one really realized it."
No formal shorts were in evidence, either, but he was wearing all of the following items at once: a polka-dotted varsity jacket, a multi-string Chanel logo pearl necklace, a small hat by Selentino, and a T-shirt from his line displaying the dictionary definition of other. Basically, Pharrell isn't into any limits at all.