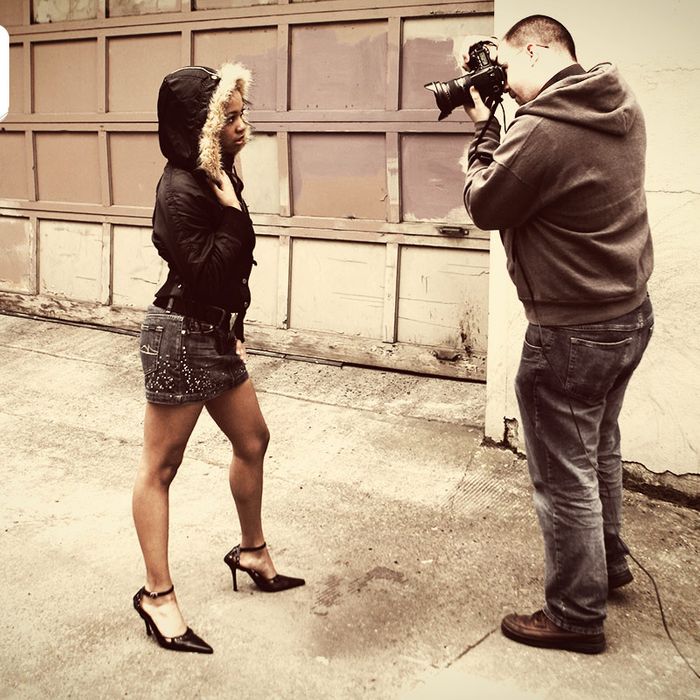 Photo: Kevin Russ/Getty Images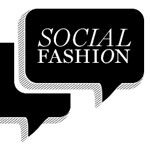 On just about any personal style blog, you'll see pictures of a pretty, young woman who rarely smiles, posing in carefully styled outfits on sun-dappled streets or in grassy fields. Sometimes, there's a dog in the picture, or a coffee cup from an indie purveyor.
What you won't see is the guy — and it's usually a guy — taking the photos. Many personal style bloggers enlist their boyfriends or husbands to be their photographers. But unlike when, say, Richard Avedon used Audrey Hepburn as his muse, some of these guys aren't an equal part of the collaboration — a few are even anonymous.
"You'll see these poor men during Fashion Week," says Bryan Yambao of the blog Bryanboy. "It's sad to see them tailing the girls. It's always the girls towering in sky-high heels and the little guy with the two camera bags taking her picture in the street. They're like little puppies following the girls' every whim." At a recent party in Florence, Yambao chastised his fellow bloggers for continuing to pose for their dates when he thought they should have been on the dance floor. "I was like, 'Look, guys, it's 2 a.m.,'" he says. "'Just get drunk and have fun.' I feel like these girls have turned into robots with no souls, and the only thing they care about is creating content at the expense of their personal relationships."
Yambao, however, admits he has had puppy-dog photographer-boyfriends of his own. One ex broke up with him because of it. "He said, 'Everything I do is all about you,'" Yambao says. "The point is valid. It's really tough to mix your personal relationship with this blogging business." In these pairings, Yambao says, the blogger always has the power. "No matter how you twist it, you're dating someone who works for you, and I don't think that's right," he says. He once paid a boyfriend to be his photographer, and the boyfriend wanted to take him to a nice restaurant but said, "Even if I would be paying, it's still your money." Now Yambao hires a professional photographer, but on a recent three-week vacation to India, did ask his current boyfriend to step in. "In the beginning he was more than happy to do it, but by the end he was like, Bryan, it's my holiday too," he says.
Perhaps personal style blogging's most famous couple — Rumi Neely and Colin Sokol of Fashion Toast — broke up in July 2012, after dating for ten years. Sokol first took Neely's picture in 2006, when he found her staring down a tiny Sony camera on a tripod in front of the garage door. Selfies weren't ubiquitous then, and Sokol remembers saying, "What are you doing?" Neely tells the same story, laughing, "He said, 'You're such a freak. If you want a cooler photo, let's take it away from the wall.'"
Sokol, who's an electrical test engineer in San Diego, had never been interested in photography before volunteering to take Neely's pictures. (They met long before the blog, at a bar on $1-beer night.) But he taught himself to use a DSLR — he and Neely split the $450 cost of the camera — and to fiddle with the shutter speeds and F-stop values to get the shots he wanted. His pictures tend to make Neely look beloved. "I felt comfortable with him," Neely says. "You can be vulnerable when someone else is taking your picture, but not with your boyfriend."
There are ways in which it makes sense for your photographer to be the person you're around the most. If you come across the perfect stairway for showing off your new block-heel flats, for example, they'll be there. Romeo Pokomasse met his girlfriend, Ivania Carpio, of the Netherlands blog Love Aesthetics, when she took his picture on the street ("I thought he was hot," she says), but initially hesitated when she asked him to photograph her. Now they have brainstorming meetings about upcoming shoots. "We'll have an argument about who has to do the dishes, but with work we're always on the same level," Carpio says. (Pokomasse is taking more vacation days from his sales job because, Carpio says, "I need him more and more.") And most of the photos on Keiko Groves's blog, Keiko Lynn, are taken by her boyfriend, Bobby Hicks, a bartender at Milk & Honey in New York, usually on their antiquing trips upstate. But Groves says she is careful not to overwork him. "It can become more of a partnership than a romance," she says. "I had an 'aha' moment when someone I knew who had the same setup had their relationship fall apart. I said, 'Let's take a step back.'"
Joanna Goddard of the blog A Cup of Jo draws an even firmer line: She uses vacation photos taken by her husband, but doesn't have him shoot any personal style photos. She says she does this to keep part of her existence separate from the blog. "It's already hard enough when you have a site about your life," she says. "If you get negative comments, it can be very personal. I can't imagine taking one more step into that. I like it when my husband comes home and we can talk about something else."
For Neely and Sokol, building the blog soon became pretty much all they did, even though Sokol still had his engineering job. He'd leave for work at 6 a.m., come home at 2:30 p.m., and take pictures of Neely for the rest of the day. As Fashion Toast got more attention, Neely was invited to fashion weeks and to model for advertising campaigns around the world. Sokol went wherever she did, whether it was New York, London, Paris, or New Zealand. Sometimes they'd drive to Los Angeles for an event and not get back to San Diego until 2 a.m., even though Sokol had to work the next day. When he was out of vacation time, he took sick leave or leave without pay. "I never thought it was silly," he says. "I believed in her so much. There were certain situations where I'd have a moment of clarity, like 'I'm taking pictures of my girlfriend nonstop; that's kind of weird,' but I started to fall in love with the whole creative element on my part of things."
Both have sparkly memories: Sokol tells about going backstage at Emanuel Ungaro in Paris ("When Esteban Cortazar was still the designer, right before Lindsay Lohan took over," he says) and the models freaking out because Neely had been the star of the mood board. Neely reminisces about a jet-lagged night in Tokyo when they woke up at 4 a.m. and took pictures in the empty street. "The blog brought us together and also, like, maybe drove us apart," she says. "It's hard to find that balance. You need to miss them and appreciate them. It'd be the same thing if you owned a laundromat together."
Today, Sokol no longer takes pictures for Fashion Toast, or even reads it, but says he doesn't regret his devotion to the blog. "That's what you do," he says. "You support each other. I never looked at it as any part mine. It was her brainchild, and I helped her build it and create a career. I thought we'd be together forever. Without the blog, maybe we would have been. Who's to say? Maybe that's just wishful thinking on my part."
Not that he wants a repeat relationship. On a recent weekend in Palm Springs, he met a woman who told him she was a blogger. "I was like, 'I gotta go,'" he says.