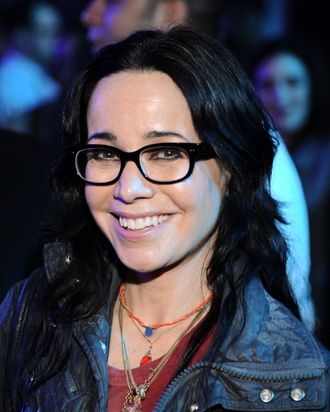 Photo: Ilya S. Savenok/Getty Images
Last night, the Cut spoke with Janeane Garofalo at a screening of Alan Partridge, the latest comedy from Steve Coogan. Based on the BBC program of the same name, Coogan plays an aging radio host who's taken hostage with his co-workers by a disgruntled ex-employee. Garofalo herself has never actually been taken hostage, but she does have impressive survival strategies vis-à-vis food and grooming.
"I would say hydrate. Water. Always have a book in your backpack, just in case. Chapstick. Moisturizer. Dry shampoo. I actually don't like dry shampoo; I'm just saying we don't know how long we are going to be there. I think it's best to be prepared. That's why in my backpack I always have chapstick, water, cigarettes — all natural."
If short on provisions, Garofalo suggests trying your toothpaste: "In a pinch, you can eat toothpaste, because it makes your stomach feel sick and you feel full. I've done it before, when I've been really hungry and I know it's going to be a long time before I am going to get food. You just put a little on your tongue and it makes your stomach upset, and then you no longer can think of anything you want to eat. I think the guys in Alive, in the Andes mountain plane crash, they resorted to eating toothpaste."
This is true: The survivors eventually ate the deceased passengers, but they started with toothpaste.