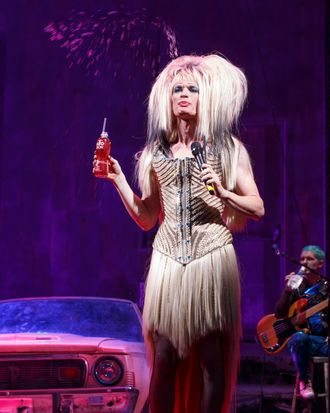 There's a moment during Hedwig and the Angry Inch, Neil Patrick Harris's new show on Broadway, when he emerges in a dress constructed entirely out of platinum-blonde hair. Intricately braided, mulletted (party in the back), and covered in Swarovski crystals, it's the show's pièce de résistance — and, unsurprisingly, the creation of Arianne Phillips, the master costume designer who, among countless other film and TV projects, has designed costumes for several Madonna tours.
The show itself is remarkably physical — and despite being beaded and impossibly short, the costumes allow for movement. For the role of Hedwig, the punky East German transgender émigré, Patrick Harris lost almost 20 pounds — and jumps around the stage in a series of bedazzled miniskirts in a pair of sparkling (but well-cushioned) go-go boots. He doesn't leave the stage for the entire performance, which means a series of creative costume changes and big reveals. Phillips spoke to the Cut about designing the hair dress, working with Patrick Harris, and the similarities between Hedwig and Madonna. (Read Vulture's interview with Patrick Harris here and Jesse Green's review of the show here.)
You designed the costumes for the Hedwig film in 2000. How did your experience change with the new incarnation?
It is totally different for me, in working from a movie to a stage show. One, because, the movie Hedwig is multiple actors and a big cast, and it's told in this narrative linear form, and as a stage show it's essentially a one-person show, with Yitzhak and Hedwig and the band. But Hedwig never leaves the stage the whole time, so the costumes are really part of the magic of the stage and theater. Neil Patrick Harris's Hedwig plays all the parts. And so any costume changes have to happen onstage because he doesn't leave the stage, and they have to kind of create this magic, whether they're underdressed or overdressed or in the staging of the show. I had a completely different experience with the same material, so it's very exciting for me.
I know you've said that you start costumes from the shoes up. What does that mean exactly?
For any actor that's dancing or moving or singing or using their body in a physical way, they have to feel comfortable in their shoes.
Number two, and I've said this often in interviews, but when I was younger, I was very interested in acting and theater and film and I read a lot of books on the acting process, which really helped me as a designer — having an inside view as to how costumes can really assist a character and create a character. That's really a costume's job; creating costumes are about creating character. And you create them before you meet the actor but also with the actor.
Laurence Olivier has this famous quote that he always worked with a character from the shoes up, because it informed how his character walked or moved, or his socioeconomic background, or ethnic background, or what time or place he existed in. So I think shoes say a lot. They help an actor, so for this show in particular it was especially poignant because Neil is playing a transgender character that has to wear high heels, so he has to make sure he can do a lot of moving. So I wanted to make sure that that was the first thing we did.
He looked so stable running around in those heels!
Neil's very brave about costumes. In our first meeting, he said, "I love costumes, I love illusion, I love magic, bring it on: quick costume changes, heels … this is something I love to do." And he had never worn high heels before. Neil's really a hardworking actor, and I think he, like a lot of the great actors I've had a chance to work with, likes a new challenge. And this piece is challenging on so many levels and especially challenging on the physical.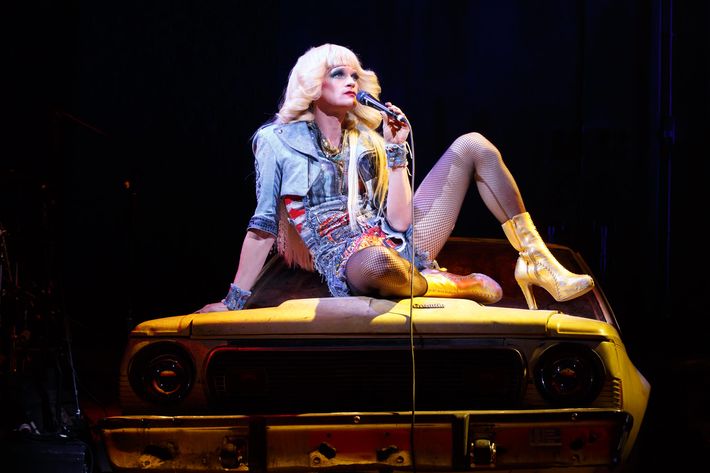 What kind of influence did he have in the costume process?
He had a lot of really great ideas about quick changes, about how we were going to get the costumes off and on. He was very enthusiastic about my ideas, and he had … one of the costumes, the black slip that he wears, he thought it would be really cool if we embellished it, so we did a snake foil print on it. He was really involved and enthusiastic. By the time I met him, I had pretty much designed most of the costumes on the first pass, because I was on a really tight schedule. But he proofed them, and he gave me his comments and his ideas. He's very respectful of the process, and a pure joy to work with.
Tell me a little about the hair dress.
Well, in the film, it's a fantasy moment — the wig in the box, kind of a fantasy moment in the middle of the show. I had the idea for a hair dress in the middle of [working on] the movie, but I didn't have the resources. Because that was 14 years ago, and I've had 14 years of learning my craft. I'm a very different designer today than I was 14 years ago. So I was able to revisit that. I wanted to do the hair dress again, and I had a lot more ideas about it.
One of the most important aspects of being able to bring Hedwig to Broadway, and one of the first things I thought was "I really need the kind of support and the partnership with Swarovski that was really essential for the job." Because while we want to keep her downtown, rock-and-roll scrappy, we need to keep her Broadway worthy, and there's no one better to do that than Swarovski. I used these sew-on crystals. Then I also used hot, thick strips of baby crystals in between the rows of the braided corset, on the bodice, and then hanging on the hair dress is kind of a mullet — I call it a mullet — hanging off the skirt.
I used different crystals to create layers of shine. And for me, it was a standout experience, because I've partnered with Swarovski before on a few different Madonna tours I've designed, and usually we use straight-up hot-fix and crystal transfers, but on Hedwig I got to use products I'd never used before, like crystal beads and sew-on crystal and crystal fabric, so that was really special. Crystal netting and mesh — I used a lot of crystal mesh — and also these fishnets; we had crystals all over fishnets. It's a crystal bonanza.
Were there other similarities between Hedwig and the Madonna tours?
I have quite a lot of experience putting men in high heels, working with Madonna. We put her dancers in high heels many times, so I had had experience with making heels for male dancers, which was really, really, really helpful, just because it's a learning curve. It's hard to get right out of the gate from the beginning. Lucky for me and lucky for Neil, I had been able to figure out in my work with Madonna the best approach for creating the most comfortable, stage-worthy heels that also would look great. I have a great shoemaker in California, [whom] I work with and enlisted to work on Neil's shoes with me, and he's been great. He's called Andre No. 1.
Do you have to redo the costumes every night? Do they lose hair?
I have a great team that takes care of the costumes every night. The costumes need a lot of maintenance. Particularly the hair dresses need grooming, literally.
So there are people with hairbrushes, brushing them every night?
Yes, they do, they do! [Laughs.] It's very funny. I got a lot of tips from Mike Potter, the wig and makeup designer, about how to care for our hair dress.
This interview has been edited and condensed.