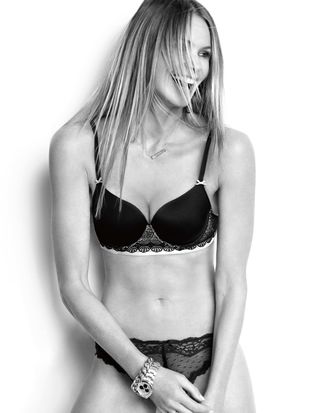 Since she first appeared in a commercial for TaB Cola in 1982 — strolling across the screen in a red string bikini — Elle Macpherson became a symbol of the glorious supermodel heyday.
She became a Sports Illustrated swimsuit-cover model (a record five times), and ran in every issue of Elle for six years straight. In 1989, Time famously nicknamed her "The Body," and she went on to star in films and host Britain & Ireland's Next Top Model, as well as NBC's Fashion Star. In 1989, she launched, with Bendon, her own lingerie company, Elle Macpherson Intimates, which analysts now value at $300 million and sells everything from lacy push-up bras and underwire T-shirt bras to thong briefs at a price range of $55 to $95.
Now, Macpherson — who turned 50 on March 29 — is back in New York this week to unveil her latest campaign, The Body for JCPenney, a line of lingerie that includes "invisible" T-shirt bras and matching underwear, which she models for the first time in 12 years. Next month, she'll debut WelleCo, a new "super elixir" at Bergdorf's. She spoke to the Cutabout turning 50, how she sees her younger self as "extraordinary" in hindsight, and why she will never wear a bra as outerwear.
Congratulations on turning 50. How did you celebrate?
An intimate dinner with family and friends. With the "big" birthdays, it's more about surrounding yourself with love and warmth, versus spectacle. My gift to myself: a new company, WelleCo, and the deal with JC Penney. Two challenges that help me bring out the best in myself, and, hopefully, other women. I'm going to step it up a little.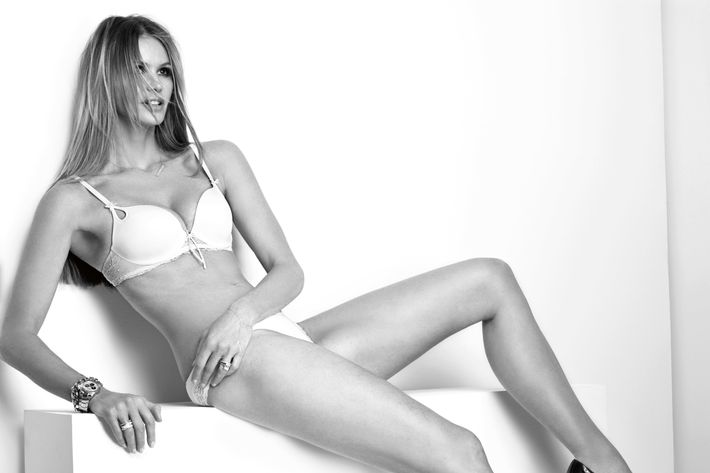 Your new lingerie campaign has you modeling your own lingerie. Not many women would jump into a lingerie shoot — and I'm thinking of famous models — at 50. Your idea?
No. Modeling in my underwear was not my own idea, but it was the right idea to launch The Body. I also wanted women to know I was 100 percent involved and that not everything was about youth.
You've been making bras and knickers for 25 years now and are hugely successful. Why did you start in lingerie?
Originally, I was approached by Bendon to model, but then ultimately cut a deal to start my own namesake lingerie line. It was a forward-thinking move in the late '80s, just as The Body at JCPenney is a forward-thinking move today.
As a model, I found I was always in my underwear, changing outfits at shoots or shows. I wanted to look good. I loved French lingerie, but it was so uncomfortable. My epiphany was to create lingerie that was as lovely as European lingerie but actually comfortable.
I read a quote of yours that every woman should have seven sets of beautiful lingerie — that's the absolute minimum, so you don't have to worry if it takes you a couple of days to do laundry. And that you had about 50? True?
True! I get my own collection. There are days I never wear the same bra twice. I have a couple of old favorites that I get in new colors, new laces. I have a whole lingerie sort of wardrobe. It's very organized. It's all color-coded — that's my thing.
Have you learned any big lessons about what women want to buy over the last few decades?
The seed of everything I create is what I want for myself. Elle Macpherson Intimates was born out of a desire to have European lingerie in America fit with Australian effortlessness, and I couldn't find it in the market. The seed for my maternity bra was being pregnant with my boys and not being able to find one, so I made it.
Do you think bras can work as outerwear, in place of a shirt?
No. But I don't think bras need to be hidden. Americans have always thought they had to wear a tan bra, and it had be hidden away. I always love a flash of color under a white shirt, or lace under a black shirt. Not hidden, but I'm not a big fan of midriffs.
What do you think of when you are standing and modeling knickers?
I always feel that whether it is lingerie, or whether it is a swimsuit, or whether I am naked — not that I am — I like [to have] the same attitude as if I'm wearing jeans and a T-shirt. It's not about adding sexuality. It's dressed. I model lingerie the same way as if I were fully clothed, which is straightforward, devoid of sexuality. That is quite important to me.
Do you remember the first bra you wore? How old were you?
I was 14. I made my mother buy it for me at David Jones because all my other friends wore bras. I didn't necessarily need it.
Juice, coffee, alcohol?
Two espressos in the morning, and juice. No alcohol for 11 years.
Have you ever dieted?
I take care because I know that I feel differently according to what I eat. I have an alkaline diet — that is why I am launching a super-greens elixir. Alkalizing powder really helps. I do best I can with what I eat, and I supplement with the super elixir. It has changed my life, in the last couple of years.
What's your new super elixir?
WelleCo is my new health-and-wellness company. My first product is the elixir that will be for sale in Bergdorf's in May. It's a completely organic super-greens powder that has been very carefully chosen, harvested, and gently extracted from Chinese herbs, super greens, vitamins, and minerals in a powder that is taken as a shot with water, or coconut water, and can be sipped all day. I take it once a day, or, if I need energy, again in afternoon. For me, I feel nourished on cellular level, and my sugar cravings are diminished. We'll be selling it in the beauty department, even though it's a food supplement.
Have you ever felt insecure about any part of your body? Is there anything you didn't like, or don't like?
Absolutely. I have become more at ease with who I am. The great thing about turning 50: I really value grace and wisdom today. The emphasis is on how I feel, not necessarily how I look, but I do have a great team of people who help me be the best I can be on the outside. I would look back at images of myself at 20, 30, 40, even 45, and look at myself and think, Wow, I was extraordinary. Those images are extraordinary, but I never felt that. I was always busy looking at the big picture. I never focused too much on myself or picking myself apart, but I never felt extraordinary then. That kind of '80s-model strength was really incredible. Dynamic strength and athleticism.