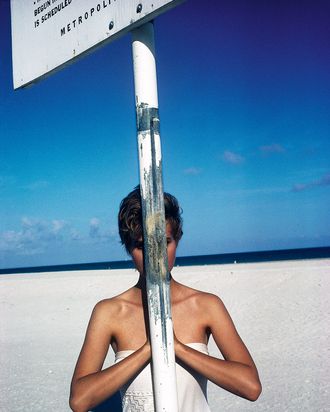 The 29th edition of the Hyères International Festival of Fashion and Photography, which took place on the French Riviera this weekend, presented the work of 10 competing designers and 10 competing photographers from all over the world. Humberto Leon and Carol Lim of Kenzo presided over the fashion jury — while renowned British photographer Steve Hiett led the judging of the photography category. Announced yesterday, Japanese designer Kenta Matsugishe won the esteemed Jury Prize for fashion, while Italian photographer Lorenzo Vitturi took home the award for photography.
Hiett, an art student turned rockstar who spent his swinging London years as the frontman of psych-pop group the Pyramid, began his career in photography by capturing the behind-the-scenes world of his band on tour. His signature style — marked by dazzling flash work, off-kilter composition, and bold coloration — drew the attention of editors at Nova and Queen magazines, and he was soon working to document the global music scene at large. Currently based in Paris, Hiett shoots regularly for British Vogue, Vogue Paris, Elle, and Marie Claire, as well as working as a graphic designer, musician, and art director.
Before the festival kicked off last Thursday, Hiett sat down with The Cut to discuss the relationship between a paintbrush and a camera, his role as jury president, and his first major retrospective exhibition to date, on view at the Hyères Festival through May 25.
When you see your work assembled together in a retrospective this way, what sorts of development and evolution do you observe?
These are pictures from like 1960 until today, but the pictures from 1960 were pictures taken more like snaps, when I was a young guy, because I didn't really start taking pictures to make money as a job until 1968–69. I think it's 70 pictures in total, and it's not a small selection of nice prints, but it's more like a collage, with all the images literally leaning against the wall.
When I look at my work over time, it's strange, because some of the photos I made in the '70s in a way look to me now like my best stuff. I don't know why that is, but I think maybe it was because I was trying to prove myself, and trying to do really personal work. There are three posters included in the show — the one of a girl behind a pole and one of a girl looking over a wall and one other — and I feel that those are in a way the strongest pictures for me.
How would you describe the tensions, as you see them, between the commercial aspects of contemporary photography and the fine-art elements?
For my work, I get a phone call, I have to turn up, and I have to make 10 great pictures in the course of that day. With fine art photography, I think, it's more a personal thing, and you can take a lot of time over it; it's a different sort of pressure, I presume. But I need that pressure of knowing that I have to do the job in that day, in order to do my work — I prefer to work that way.
As president of the jury, what criteria are you planning to use to evaluate the candidates? What are you looking for in these young photographers?
What I'm looking for is just a photographer who is being him or herself. It doesn't matter what work they make, even if I don't like it, as long as it's someone really being themselves — I figure if you're just copying someone else, there is really no reason to make anything. I'm simply looking for photographs that are interesting, and I'm not thinking about their career. That's for them to decide.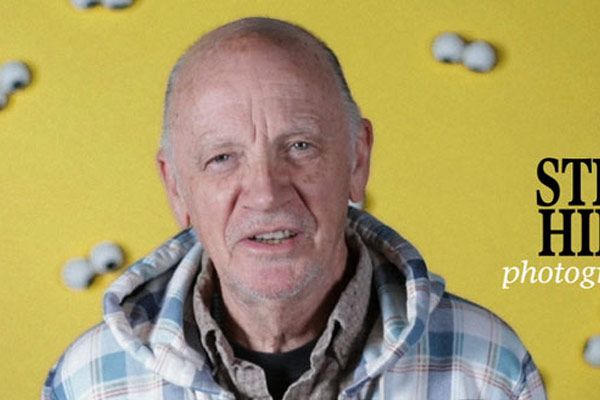 Can you speak briefly about how the medium of photography has changed over the years, and how you see your role as a photographer in that evolving landscape?
The problem with photography today, and I do think this is a problem, is that because of digital, everyone is now taking the same sort of pictures. Everyone retouches, everyone cleans up their photos. Images are not very funky anymore, as far as I'm concerned. Especially with fashion photography now, the problem is that everything is so perfect and retouched and soulless that I think it lacks a certain element of the spontaneous magic moment.
Before picking up the camera in the late '60s, you studied graphic design at the Royal College of Art Graphic Design in London. What is the relationship for you between a photograph and other art mediums?
I don't think of myself as "a photographer." I think of myself as someone who uses the camera to create images that I see in my head. Clearly, since I'm using a camera and I've made my living out of it, I am technically a photographer, but photography for me is just another medium, and the camera is just another tool that I like to use to create things I see in my head, or things I hear. Sometimes I even feel that it's a bit fraudulent to say I'm a photographer, a bit guilty, like I'm masquerading. I am one of course, but in a way it's one of a few things I do. I have other tools I use, I have my music, and my graphics — so you see I'm really an image-maker more broadly, I like images in general.
Actually, a lot of great photographers were originally painters or graphic designers. I think to be a great photographer, you have to bring something else to the medium. Cartier-Bresson wanted to be a painter, Irving Penn wanted to be a painter. A lot of great photographers from the '60s were actually art directors first, who suddenly saw that it wasn't too difficult to become a photographer, like William Klein, he was a painter. These photographers brought something else to their work in photography, another understanding of the visual world, and they used the camera to extend ideas they had had as a painter.
This interview has been edited and condensed.