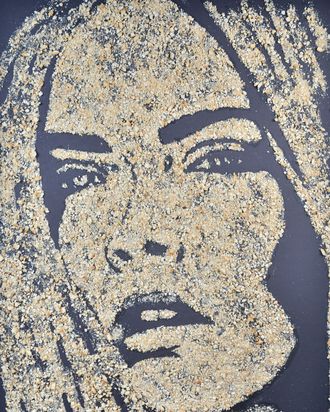 Photo: Jacobs/Courtesty of Nathan Wyburn
Last week, the British snack company Jacob's commissioned a set of portraits of Cara Delevingne, Kate Moss, and Twiggy made out of cracker crumbs. The result, which was on display for one night only at the Whitespace Gallery in London, is the work of Nathan Wyburn, a 24-year-old celebrity portraitist from Wales.
Wyburn's been using unconventional materials to depict celebrities for the past four years, ever since he first made a portrait of Simon Cowell out of Marmite (the yeast-extract food paste) on toast. "There was an article in the Sun newspaper, and it said 'Simon Cowell: You Either Love Him or Hate Him,' and the slogan for Marmite here in the U.K. is 'You Either Love It or You Hate It,'" he explained to the Cut. Since then, he's done Katy Perry in cat food, various reality TV stars in fake tanner, and Miley Cyrus, painted with his tongue. His YouTube channel (on which he posts time-lapse videos of his creative process) has accumulated a significant fan base; and, at the encouragement of his fans, he appeared on Britain's Got Talent in 2011.
The Cut spoke with Wyburn about the inspiration behind his work, the hardest materials to make portraits out of, and what it's like to paint with your tongue.
How do you choose your subjects and your materials?
Most of the time the subjects are people that I'm quite interested in myself, so it's a little selfish. I have quite a big fascination with pop culture, and I watch a lot of television programs and read the newspapers and internet gossip websites and what not. I make portraits of people that I enjoy watching, and then I try to think of unique materials, either from their personalities, like something they're well known for, or a stereotype. I try to have fun with it.
I think often we assume that when someone becomes famous they're putting their entire lives out there for the public. You see them everywhere: on the front covers of magazines, next to, say, a packet of crisps or a jar of Nutella. They're almost a product, made for consumption — almost the exact same thing as the jar of Nutella that's made of the public to eat.
What are the challenges working with unconventional materials?
Well, they obviously don't dry quite as well as paint, and there are different sorts of textures — like the bread and the toast; it crumbs a little bit and falls apart while you go, so you have to be very delicate and careful. Things like ketchup and chocolate start to run if the temperature is too high in the room … It's a lot of trial and error with a lot of different materials, but that's part of the fun of it for me. There are some materials like fake tan and makeup that will dry, and I get to keep those, but a lot of the food products — especially the toast ones, which I'm most known for here in the U.K. — will go moldy. A lot of the toast ones I actually give to horses to eat, which is quite fun because the idea behind the work is celebrity and commercialism and consumerism, and the way people consume celebrity — so for the artwork to actually get consumed by a horse finishes the whole project off.
Are there any materials you've tried that have turned out to be too hard to work with?
No, actually. But there have been a few that have been a bit of a challenge. I tried to make a portrait in snow, which was quite difficult. I filmed that and put it on YouTube — I tried to re-create the Mona Lisa. I was in about a foot high of snow, and the snow melts as you go along, and it's so big that you can't actually see the scale of it unless you stand really far away. And obviously I was freezing cold, standing in the snow for about eight hours.
But it's fun for me to just try to use different materials even if they don't always come out perfect. Even the snow one — it still turned out quite well. I don't think there's anything that's turned out bad yet.
What inspired you to make Katy Perry out of cat food?
That one was quite fun. It smelled really bad. She released her song, "Roar," about lions and tigers and roaring, and then there was this thing on Twitter where she was referring to all of her fans as "Katycat." And I just thought, I'm going to use cat food to make Katy Perry. It was almost like a little homage to her fans.
 Was your tongue sore after using it to paint Miley Cyrus?
Yeah, it was. I had to stop for 15 minutes here and there, to wipe my tongue and swirl my mouth out. But the paint was obviously nontoxic and child-friendly, so I wasn't going to get any sort of illness from it. It was probably the most bizarre portrait I've ever painted, to be honest. The inspiration was simply her new character that she was developing into — her coming of age and becoming a little more eccentric and constantly poking her tongue out. I'd already painted with my fingers and with my feet before, and like that — so I thought, It can't be that different, really, to paint her with my tongue. But it was. It was a real challenge. I think it took me about three or four hours to complete. I was so close to the canvas — I was licking the canvas, essentially — that I got a bit of a headache as well, since I was looking at something so close for such a long period of time.
Which artists do you cite as inspiration?
Mostly Andy Warhol — I have his portrait tattooed on my arm, he's that much of an inspiration to me. I studied him all the way through school, and his fascination with celebrities is almost the same as mine. He sort of had this urge just to be around them all the time, and study how they feel and what they think compared to a regular citizen. He made his portraits of Marilyn Monroe and Elvis Presley and Michael Jackson. They were the biggest stars of that time. I think, as an artist, it's my duty to mark this point in time where these celebrities are the icons of my time.
Are there any projects you have planned for the future?
Well, recently, I've been chatting with Perez Hilton on Twitter, which is a bit crazy. I told him, as a thank-you for featuring my work, I'd like to make his portrait. I'm planning to make his portrait out of cutouts of gossip articles from his website. It will be like a big collage — maybe seven feet tall or something like that, and really vibrant, using brightly colored celebrity photos and articles. I've also just signed a book deal here in the U.K., so I'll be creating 50 new portraits for an October release.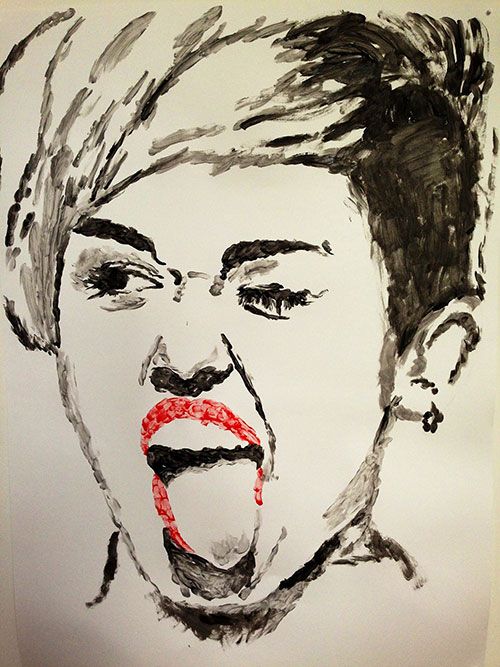 Miley Cyrus with my Tongue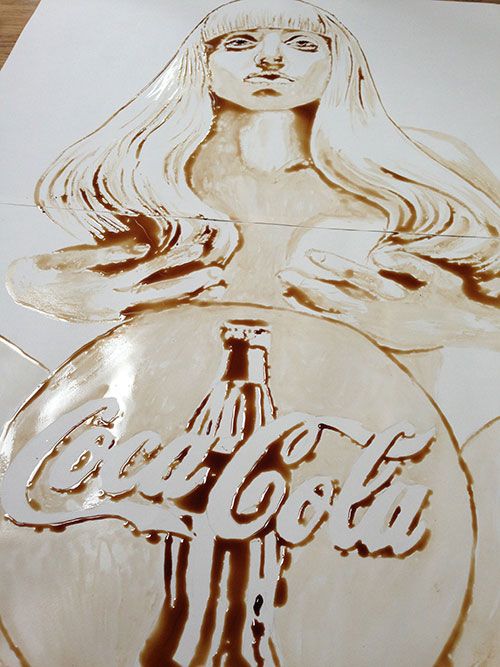 Lady Gaga Coca Cola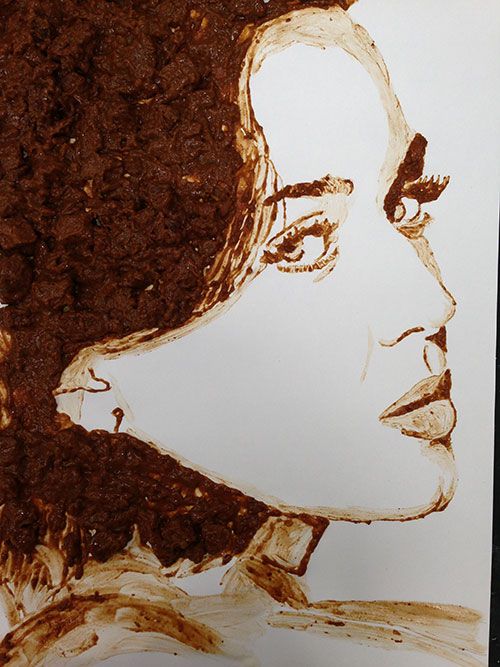 Katy Perry Cat Food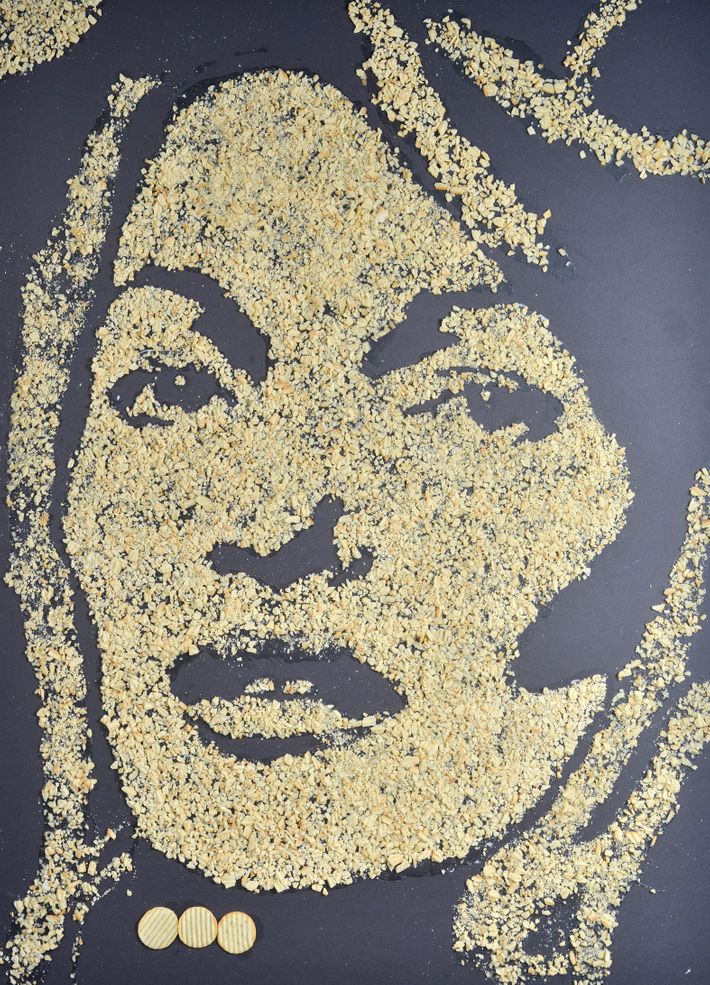 Mini Moss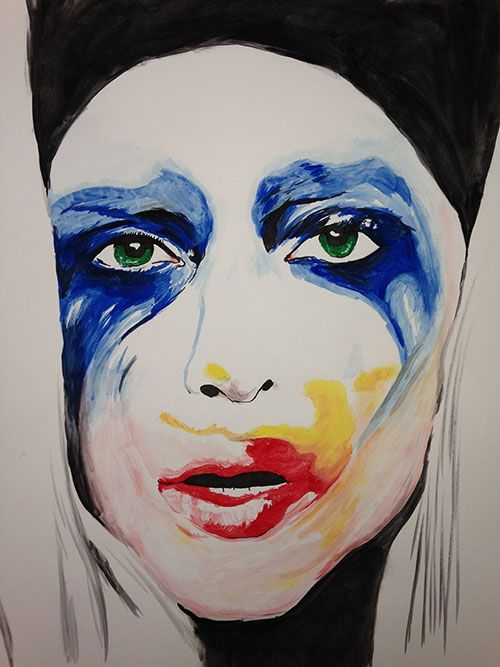 Lady Gaga Makeup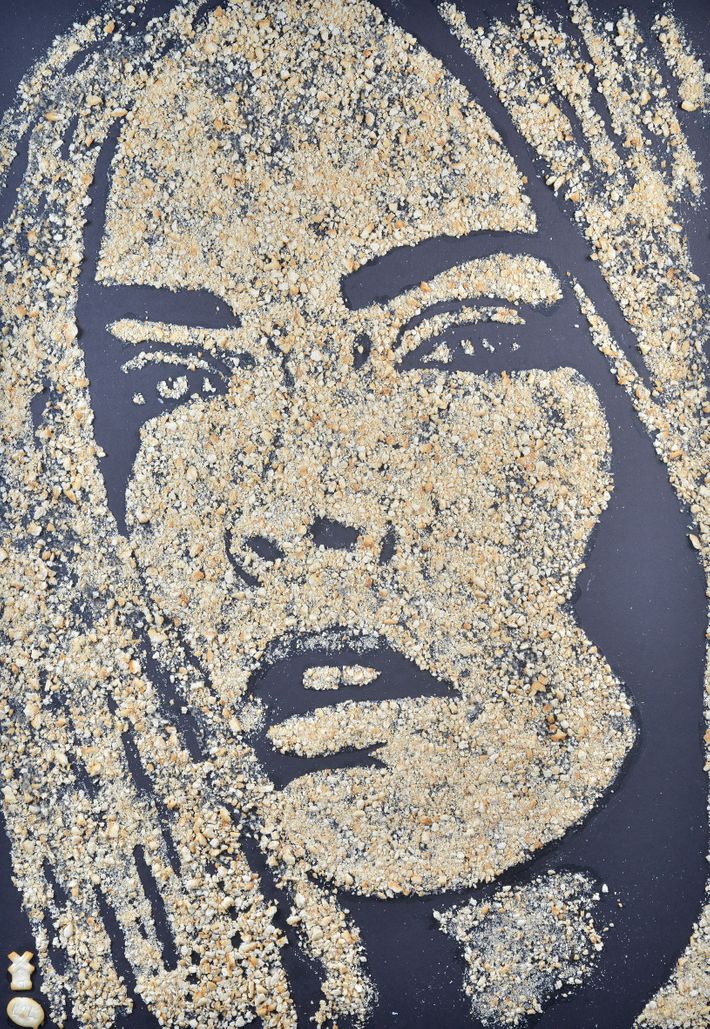 Cracker Delevingne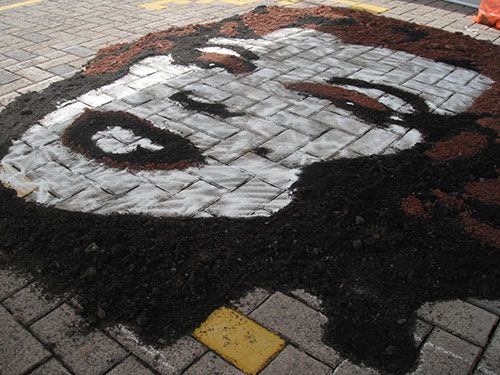 Marilyn Monroe Soil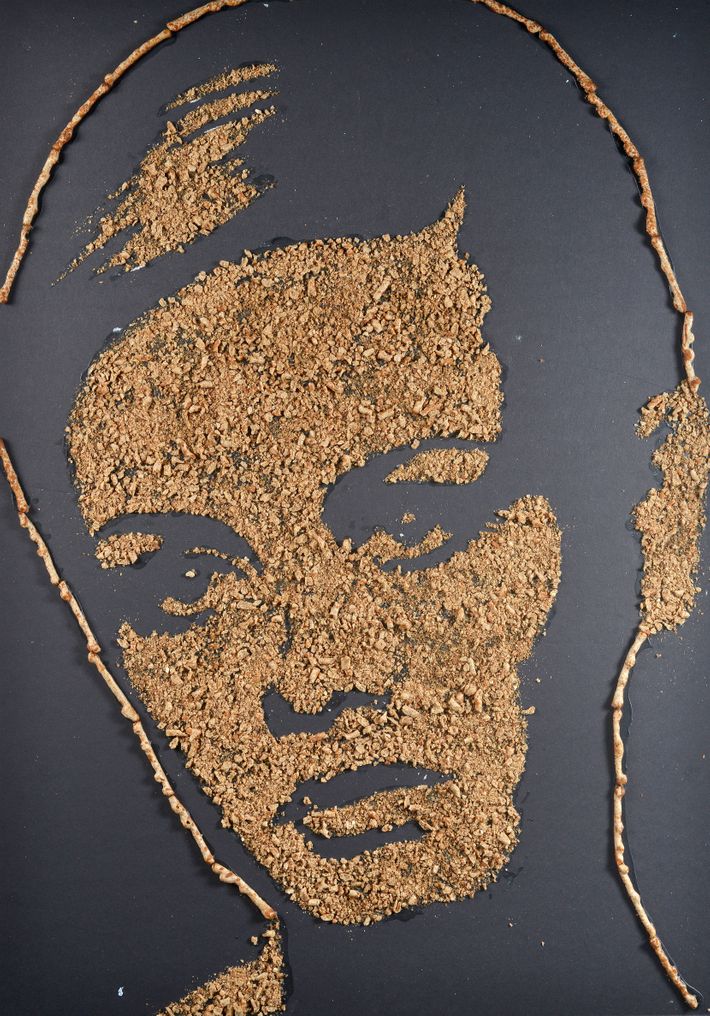 Twiggy-let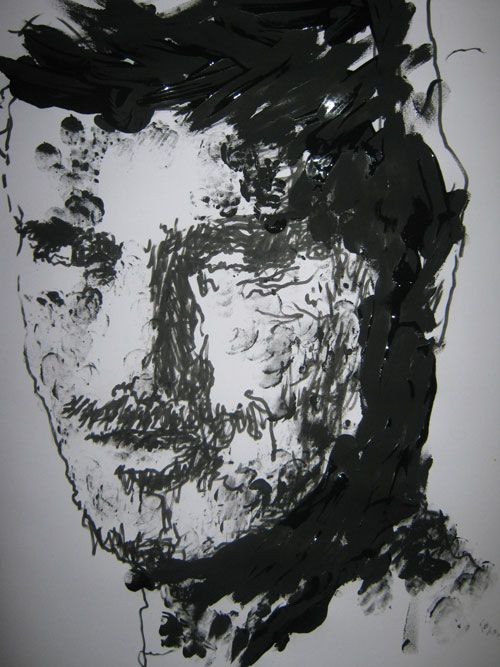 David Beckham Foot Sketch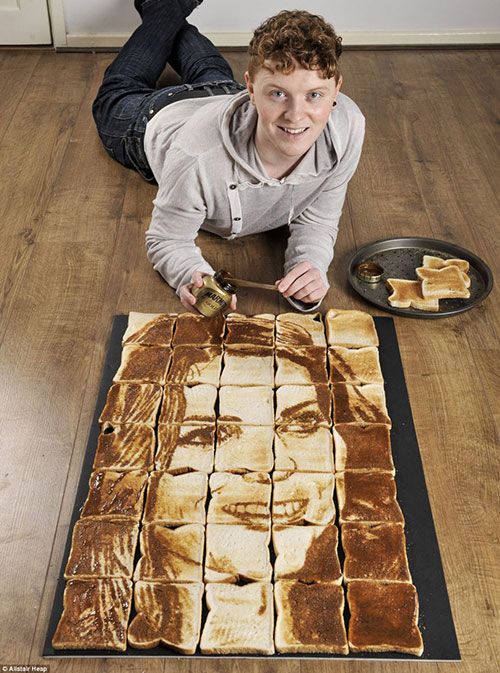 Kate Middleton on Toast