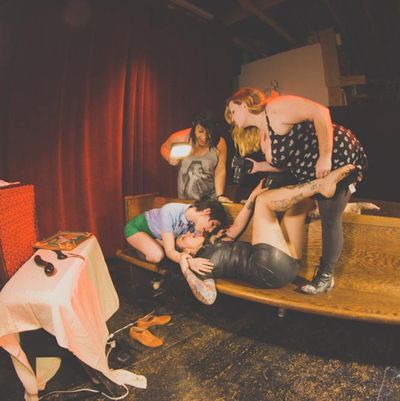 During most of a recent trip to New York, Courtney Trouble — the director and performer SF Weekly called "the Queen of 'Queer Porn'" — stayed with friends in Brooklyn. But on the last night in town, Trouble rented a swanky room at the Gramercy Park Hotel — not for the comfort, but for its potential as a porn set. When I met Trouble at the hotel, shooting had just finished. Porn stars lounged on the bed, with clothing and dildos strewn all over the room.
Trouble's been performing in feminist and queer porn for 12 years and running the production company Trouble Films for three; now, Smash Pictures is set to release the director's first mainstream lesbian offering. The Cut spoke with Trouble about the new gig and giving viewers "what they want, and what they don't know that they want yet."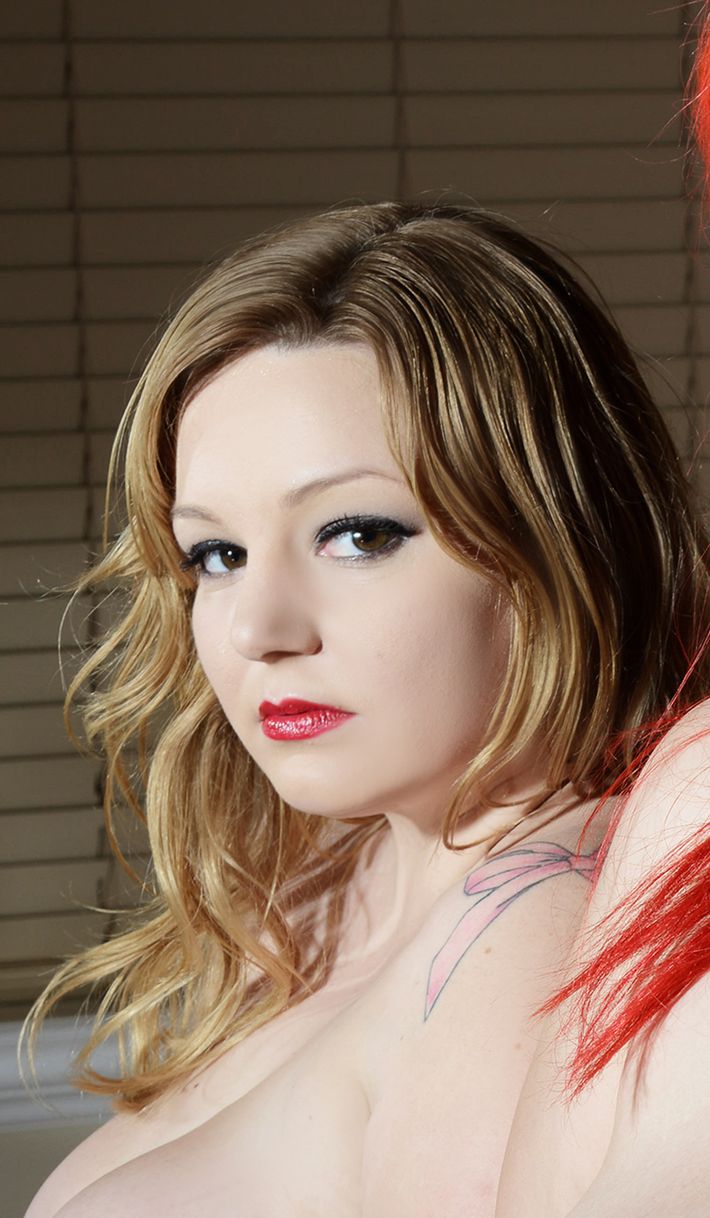 What would you say is the biggest difference between so-called "lesbian porn" for straight guys, and porn for lesbians?
Well, I think anyone can enjoy any kind of porn, so there's not necessarily a solid line between the two. I watch stuff some more mainstream girl-girl stuff that's hot — though they do tend to use lots of pairings of ultrafeminine women together, and they're always generally quite small, like a size two, definitely cisgender, definitely white, and for the most part young, or MILFs. One big difference would be if there's actually lesbians making it.
If you have queer people casting and editing and performing, then it does end up looking a little bit different, but not always. I shoot femme people together all the time, and sometimes it ends up looking like the more commercial male-owned companies. What I'll shoot for Smash will be pretty commercial.
Tell me more about that project.
We're gonna be shooting soft-core girl-girl, kind of by the book, and then with the same performers we're gonna be shooting a queer porn version, and then edit the two together. So I'm delivering them what they want, and what they don't know that they want yet. It's gonna be cool because they're gonna be able to edit in queer porn, high-chemistry, hard-core footage, alongside the girl-girl stuff that they're used to having.
What will differentiate those two shoots? What makes one queer porn and the other not?
In traditional girl-girl, there's a list of setups: eight minutes of kissing, then get undressed, then nipple play, then oral, then grinding — that kind of setup is gorgeous and easily shot. Queer porn is generally shot quite differently, with the cameraperson being quiet and uninvolved during a free-form sex date between the two performers. They can be as "realistic" or "performative" as they like on a queer porn set; they aren't held down to a list of needed shots. I'm interested in playing with the differences by mixing them together. I may discover that there's no difference, but there's really no way to tell unless you try it. This may change they way lesbian porn is made forever, or it may just be a lot of extra work — we will see!
How far do you think you'll be able to push the envelope?
I've had to have conversations with them about casting, because I want my creative vision to be seen, and a lot of that really is in who's on deck to perform. The biggest fight that I had with them was about tattoos — they think that their customers will shy away from tattoos.
There's a lot to be said for it also being a job. I grew up really poor, and earning my money is really important to me. I'm okay with having a job. I have to balance how I make money and how I change the world. While I continue making bigger moves in feminist porn I can make smaller moves in commercial porn, and that's a valid fight. If I can change commercial pornography in even the smallest of ways that's great.
And the paycheck from Smash will feed your work at Trouble, right? 
Yeah. We're getting all-new lights, so I'll be able to shoot that same high-quality porn with all the fat people, queer people, and black people I fucking want. And this project itself will be really cool, too. Even if I reel it in, maybe you'll be able to see something closer to what I make in my real work — maybe something similar to what Belladonna did for Evil Angel in her series, which I consider to be queer porn. I see a lot of queer porn in commercial porn.
Is it just not marketed as queer porn?
Yeah. Well, the word queer really scares people; there's less understanding. If I say I do "feminist porn," it does bring up a lot more stuff. But I make mostly queer porn. I don't shoot a lot of straight porn.