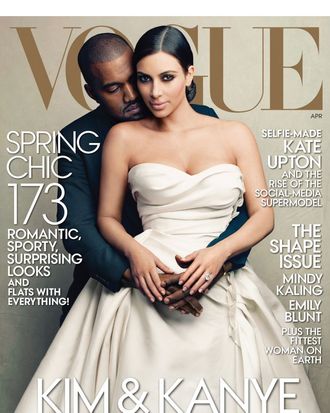 Photo: Annie Leibovitz/Vogue
The New York Post reports that Rickey Spicer — a musician who sued Kanye West last year because samples of his '70's-era song allegedly appeared on the rapper's single "Bound 2" — is now suing Vogue. The song soundtracks a behind-the-scenes video of April Vogue's Kimye cover shoot.
As a child, Spicer sang in a little-known group called the Ponderosa Twins Plus One. Per the suit, "Mr. Spicer's voice is used substantially throughout the video, comprising approximately 44 percent of the lyrics." The suit accuses the Condé Nast title of "knowingly us[ing] the voice audio recording of Mr. Spicer without his authorization or consent." Through a spokesperson, Vogue declined to comment on the matter.

Hopefully this won't create any bad blood between Kanye and Anna Wintour. After all, we want to see what she wears to the wedding.