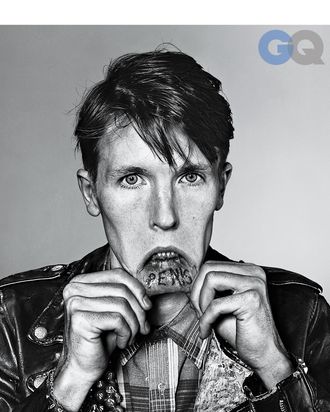 Photo: Richard Burbridge/GG
Don't give Ryan McGinley one of your spiels about a pre–Citi Bike, peep-show-era New York. In a feature in GQ's April issue, the 36-year-old photographer tells writer Alice Gregory:
"I really don't like when people say, 'New York is boring now. New York isn't like it used to be.' I hate that. It's one of my pet peeves. No, motherfucker, you're boring! You're not like you used to be."
Not to mention that his often-nude shoots are (understandably) sometimes mistaken for porn sets by jovial passersby:
"Everyone thinks we're making a porno. We usually don't run into people, but when we do they're like, 'You're making a porno, aren't you? C'mon, you can tell me!'"
In the accompanying shoot, McGinley poses for Richard Burbridge and displays his Miley-esque lip tattoo. Forever young!