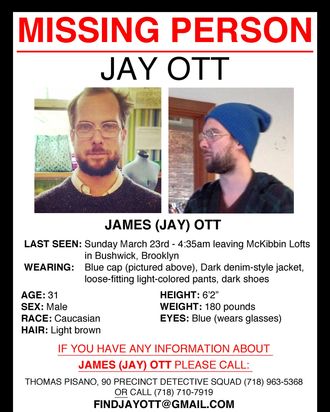 Over a week after his disappearance, posters of fashion designer Jay Ott have been posted throughout two boroughs. They're multiplying in the subways, and popping up in Facebook and Instagram feeds, re-posted by friends and friends of friends and even empathetic strangers.
Ott, a Toledo-born, Pittsburgh-bred fashion designer, works at the Dock Group, where he serves as design director for Crippen and Rosetta Getty. Previously, Ott worked at The Row and J. Mendel, and interned at Ralph Rucci. Described as six foot two, 180 pounds, with blue eyes and brown hair, Ott was last seen on the evening of March 22. After eight days, his friends and family are now widening their efforts to find the missing 31-year-old.

After spending time with him over the weekend, friends and colleagues, such as friend and co-worker Beatrice Kim, became alarmed when he didn't turn up for work on Monday morning, and repeated attempts to reach him by phone were unsuccessful.

"Jay loved his job; he loved the people he worked with," Ott's father, Bob, tells the Cut. "We spoke on Saturday about a meeting he was really looking forward to on Monday."

"He's never done anything like this before. He never disappears. He always calls," says Kim.

After corroborating with other friends about how Ott hadn't been seen or heard from since Saturday night, Kim and a few friends decamped to his Bushwick apartment but found it empty. They mobilized immediately, calling his parents and widening their circle of communication by texting friends. By Tuesday, Ott's father arrived from Pittsburgh, as did more friends and former professors from other cities. Using Ott's apartment as headquarters, they began digging deeper — checking through his email, credit card, and MetroCard records, and filing an official missing-persons report.

"We've been really deliberate and careful with the information that we've released," says Kim. "We have information — we're still sifting through it — but now we're releasing more to the public in hopes that people can help."

So far the information that has been made public is such: Ott was last seen at dinner with friends on Saturday and was later seen at his apartment in Bushwick's McKibbin lofts around 9:50 p.m. Video footage pieced together shows him leaving his apartment at 4:35 a.m. wearing a blue cap, glasses, and light pants and reappearing at a bodega around 4:51 a.m. The most recent footage revealed a clean-shaven Ott entering the pedestrian pathway of the Williamsburg Bridge at 5:02 a.m. His father explains that while the NYPD acquired footage of two men exiting the bridge on the Manhattan side, the video is too dark to tell which one is Jay Ott.

Last Sunday, the search team woke up and followed the exact early morning route Ott would have taken from his apartment to the Williamsburg Bridge, at the exact time he took it. They interviewed shop owners and bodegas to view surveillance tapes — which is how they placed him en route to the bridge. "It seemed safe. If he wanted to stop and get a cup of coffee, there were plenty of places to do that," says his dad. "We noticed that it was well lit — people were out even at that time."

This week, while some of Ott's friends have had to return to their jobs and homes in other cities, eight of the core group of searchers continue to expand their efforts. Working with both NYPD Detective Thomas Pisano and a private detective, Ott's "friend force" — as Kim calls them — continue to comb the city.

Now they've widened the search by looking on the Lower East Side. They're visiting hospitals, rehab centers, detox centers, A.A. meetings, even missions and soup kitchens, on foot — anywhere that Ott might have sought support.

During the day they search, and, at night, Ott's friends make sure his dad is taken care of by taking him out to dinner in and around Bushwick.

"Jay had this way of creating communities and over the years has taught me what it means to be a good friend," says Kim of their efforts over the past days. "I think that the efforts that we're putting toward finding Jay are just things that we learned from him."

The elder Ott mans the Friends of Jay phone line and his own personal cell — jotting down notes on a blue Post-It pad he carries with him at all times. While we talked, he received no less than five phone calls in less than a 20-minute span, including one on the tip line.
A woman called to report perhaps seeing Ott on Meserole Avenue in Greenpoint about 15 minutes prior, but couldn't identify his clothing. With the patience of a saint, the senior Ott wearily struggled to parse together anything helpful, asking specific questions: "Did he have a beard? What was the length of his stubble? Was he carrying anything? What clothes? Did he seem okay? What do you mean by neutral — dark, light? Hat? Sweater?"

"That doesn't really sound like Jay," Ott said, at the end of the conversation, but called the detective with the report anyhow. "Now they'll go through video footage for that area, even if it's just to rule it out," explained Ott.

The team will continue to pound the pavement, and plans to make new posters with photos of a clean-shaven Jay. "You never know who might just spot him on the street. We ask that people just keep looking. And call the number with descriptions that are as specific as possible. Every lead could be something," says Ott. "I've got the burner phone, I've got the cell, I've got the computer — I can be reached."
 
(Anyone with any information, call the Friends of Jay hotline at 718-710-7919 or email findjayott@gmail.com.)