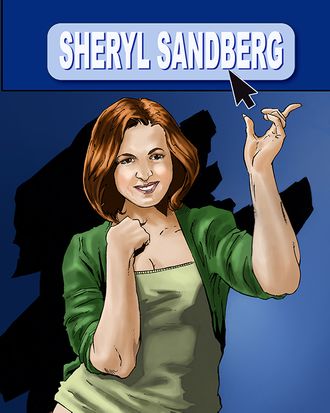 Photo: Bluewater Productions
It's a bird, it's a plane, it's — Sheryl Sandberg, I guess. The lionization of the Facebook COO and continues: according to CNET, she's now the star of her own comic book, titled Female Force: Sheryl Sandberg.
The 22-page comic dives into Sandberg's origin story — her education, her family, and "the formation of her belief system."
"Sandberg doesn't need a cape and tights to make a difference," says writer Michael Frizell. (Echoing what Sandberg  probably says to herself in the mirror every morning.) Frizell also skips over on her real-life superpower, the mythic ability to Lean In. Twenty-two pages just isn't enough to explore "potentially controversial ideas," he explains.  

No cape, no actual superpowers, minimal Leanin' In? Is Sandberg like Thor without a hammer? Well, at least she gets to expose a sassy sliver of midriff on the cover.