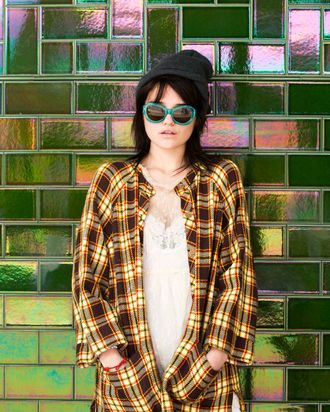 Photo: Newspix/Getty Images
Perhaps the biggest bombshell in Marisa Meltzer's bombshell-heavy Times profile of Sky Ferreira comes when the Saint Laurent face reveals that she only gets a 50 percent discount on Hedi Slimane's sweet, sweet grungy wares.
"I have a 50 percent discount worldwide. It's pretty expensive, though. I go there and [my credit card] gets rejected, and I'm like, 'Oh, my God, this is embarrassing.' I didn't tell them my name until [the shopgirl] was like, 'You're Sky, you're in the ads.' And I said, 'This isn't working right now, I'll come back in an hour. I swear there's money in there.' "
Yeesh. Hope she's getting a commission on that shoppable music video. But also, Hedi, couldn't you throw her a bone in the form of a biker jacket or some monogram luggage?
"I have a 50 percent discount worldwide. It's pretty expensive, though. I go there and [my credit card] gets rejected, and I'm like, 'Oh, my God, this is embarrassing.' I didn't tell them my name until [the shopgirl] was like, 'You're Sky, you're in the ads.' And I said, 'This isn't working right now, I'll come back in an hour. I swear there's money in there.' "
"I have a 50 percent discount worldwide. It's pretty expensive, though. I go there and [my credit card] gets rejected, and I'm like, 'Oh, my God, this is embarrassing.' I didn't tell them my name until [the shopgirl] was like, 'You're Sky, you're in the ads.' And I said, 'This isn't working right now, I'll come back in an hour. I swear there's money in there.' "